Yeah, so the bad news is that my new job keeps me busy enough that I'm horrible at keeping up with a weekly Doomino effect schedule. But the good news is, I'm bringing in more money, so I'm buying more comics to review!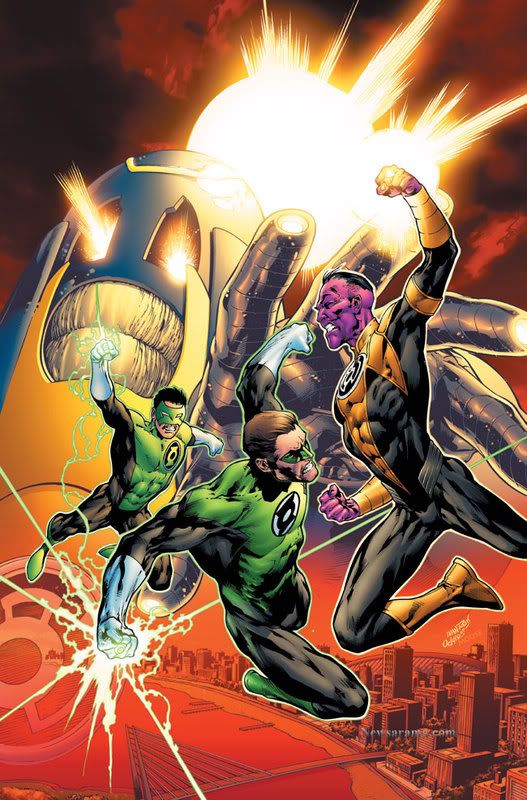 So let's start off with Green Lantern #25, the finale of the Sinestro Corps storyline. I'm having trouble with my numbering here, because by my count, it should have been part 10 (and DC seems to think so too) but it's part 11, and it's a SUPER SIZED FINALE, costing me $4.99.
But dang, this was a great issue. While I was very excited about this series, I was also very skeptical. With all the big guns that had been assembled on the Sinestro side, I was very afraid there was going to be some lame, cop-out ending.
But I buy it that the Anti-Monitor could be defeated, or at least slowed down, by the combined forces of the Guardians. I'm glad Superboy turned on the Anti-Monitor, and I'm glad that Superboy was written like an unstable psycho kid. Little problem I'm wondering about – if he was doing his old "I'm eating all the positive matter" thing, is there like a hole in Earth now?
The public support of Green Lantern gave me chills. That was a pitch-perfect big-screen scene if I've ever read one. Some readers might feel that was a bit cheesy, but I think sappy scenes like that can really work to balance the seriousness of the situation. Pushing that dynamic helps establish how far everything has moved in the other direction.
I was very glad that Sinestro took pleasure and even a feeling of victory at learning the Green Lanterns now had lethal authorization. The severity of that change had been somewhat glossed over in recent issues, and I was wondering if anyone was going to acknowledge the dark consequences of that. I wouldn't have minded someone admitting that earlier, but saving it for the moment Sinestro learned it certainly didn't take away from that scene.
There was very little I didn't like about this series. I felt like it should be considered a textbook case of telling a large-scale superhero action story. You introduce a huge threat, you elevate that threat, and you have the good guys win, but you make sure that the quest for victory means something and changes something.
The Sinestro Corps was defeated, but the status quo in the world of the Green Lanterns has definitely changed. They can use lethal force. The guardians are freaked. And the stage is set for the rise of more lanterns.
Another slight problem I have with the aftermath, and that is the tease for 2009. In Blackest Night, Summer 2009, "the dead will rise." Considering I just read the finale of a story that involved Hal Jordan battling Superboy Prime, Cyborg Superman and the Anti-Monitor, teasing me that the dead will rise is a little weak at this point.
(more…)