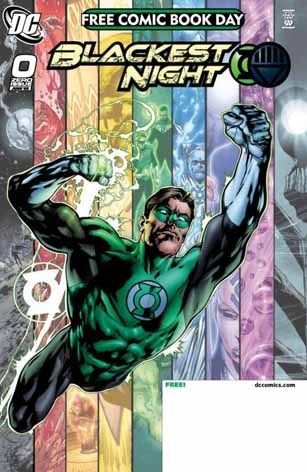 I'm going a little unconventional this week and picking a book that doesn't officially come out until Saturday for FREE COMIC BOOK DAY. So you're all free to choose whatever you want at the shop tomorrow — just be sure to visit your local comic store on Saturday and grab the Book of Doom. Because of the later release, get your reviews in by Saturday night to be included in the roundtable, which we'll post Sunday.
by Geoff Johns (W) and Ivan Reis (A)

This May, DC Comics will debut its first-ever all-new title for Free Comic Book Day: BLACKEST NIGHT #0, the prelude to "Blackest Night," the biggest comics event of 2009! Featuring a story by writer Geoff Johns, BLACKEST NIGHT #0 is illustrated by top art teams Ivan Reis & Oclair Albert and Doug Mahnke & Christian Alamy. The issue also features an introductory text page by Johns that sets the stage for new readers and a cover by Ivan Reis. The issue includes a lead story that leads directly into BLACKEST NIGHT #1, as well as a special guide to the various Corps that have recently emerged as forces in the world of GREEN LANTERN.