It's the final installment of our 4-Part Book of Doom series this week, reviewing four new issues that began four new arcs in their respective titles.
Ms. Marvel #25 followed up on last month's revelation by Tony Stark that Carol Danvers – or at least a Carol Danvers was a Skrull. We can see from this issue, however, that there is also a Carol Danvers that isn't a Skrull.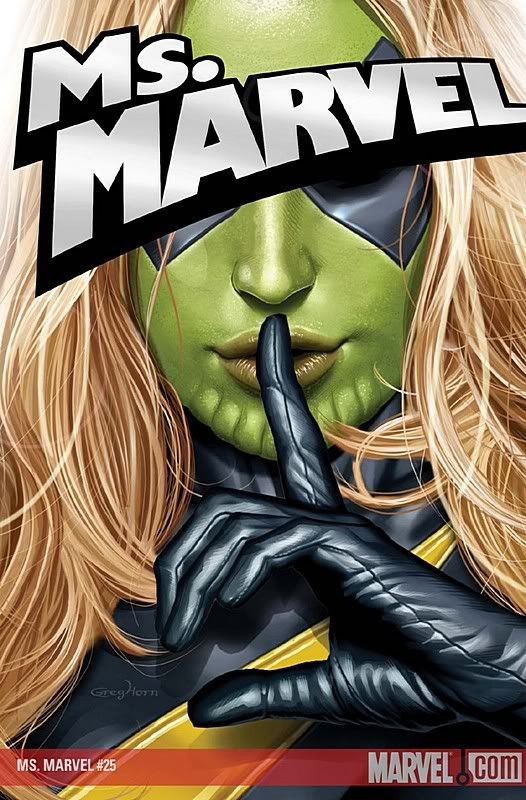 She was one of my first guesses as to who was a Skrull, based on little dialogue things from earlier issues of New Avengers and Mighty Avengers. But I'm kind of getting the hint that Secret Invasion will be full of red herrings.
The Colossus-Skrull made his first appearance in the New Avengers: Illuminati issue that revealed Black Bolt to be a Skrull. I'm still not sure if Colossus is real, Colossus is a Skrull, there's a real Colossus and a Skrull Colossus, or if this is just another red herring since we all know that Colossus was dead for a while.
There wasn't a whole lot to this issue, and definitely nothing worth spending $3.99 on. The writing was just kind of stiff, and I get the feeling that Brian Reed doesn't know what it's like to have the internal monologue of a woman. I don't either, but I just doubt that it's full of clichés like thinking about ice cream. Then again, maybe it is. I suppose I shouldn't judge based on the authenticity — just on the fact that it felt cheesy and contrived.
I shouldn't say there wasn't a lot to this issue. Her boyfriend got killed. And maybe he's a Kree. And maybe her agent is a Skrull. There is definitely more going on here, and regular readers of Ms. Marvel probably got a lot more out of this than I did. But as far as attracting a new reader, as this week's 4-Part Book of Doom experiment was sort of based around doing, since it's all about new arcs and whatnot, I don't think I was interested enough to buy another issue. Maybe if it's a slow week. But I have a feeling I'll be more than happy to get my Ms. Marvel dose in Mighty Avengers. (more…)