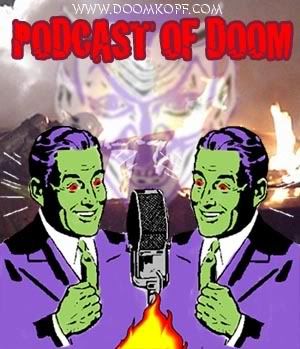 [SFX: Intro music]
JIM DOOM: Hello and welcome to the latest Podcast of Doom. I'm your host, Jim Doom, and with me as always is Doom DeLuise.
DOOM DeLUISE: Hey.
JIM DOOM: Ever since Fin Fang Doom declared us to be a wrestling site also, we've made a little more effort to talk about wrestling —
DOOM DeLUISE: Definitely more of an effort than we've made to talk about comics.
[audience laughter]
JIM DOOM: — and last month, we previewed WWE Hell in a Cell. I don't remember how we did, but shall we take this month like we did last month, and start from the bottom of the card and work up?
DOOM DeLUISE: Yes!
(more…)