By Grant Morrison and Dave McKean
15th Anniversary Edition published in 2004 by DC Comics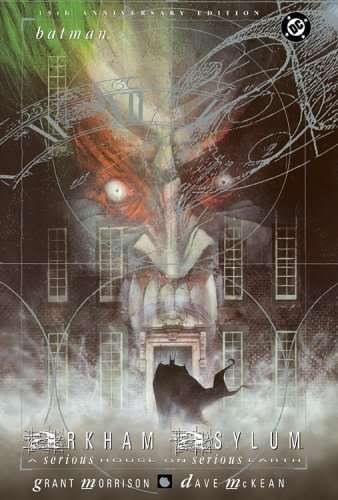 This won't be a traditional Library of Doom review because I imagine at this point in human history, 20 years after its initial publication, there are probably few people interested in a traditional review of Arkham Asylum. Prior to last night, I was probably one of the few remaining regular comics readers in 2009 who had yet to read this book, in spite of my good intentions. But last night, I had a 30% off coupon to use, so here we go.
Honestly I wasn't all that excited by the main story. It was interesting to read, worth a little effort to think about, and somewhat pleasing to look at. I seem to have shackled myself quite a bit with this pervasive awareness of my place in the comics review timeline, but I'm just not sure I'm going to have too much to offer in terms of Unique Takes on This Story.
But that's okay, because I ended up really enjoying the book once I got to the bonus materials. For the Anniversary Edition, DC has included Morrison's script for the book, including some contemporary notes from the author. Sometimes I skip things like this, but I was underwhelmed enough by the feature presentation that I hoped I'd get a little good out of reading the appendix.
(more…)