I missed a few weeks, so this edition of the Doomino Effect is going to be jam-packed with weeks-old books, but I'll put the new stuff first.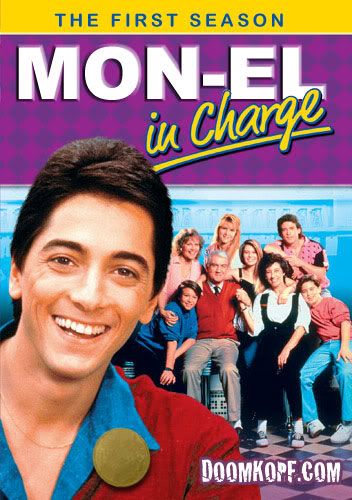 I sat down to read last week's comics at McDonald's with DeLuise last Wednesday. We had just come from the shop with fresh comics in hand. I decided I wanted to start with Superman #686, the first issue of Mon-El subbing for Superman. I read the first page, in which bystanders on the streets of Metropolis go through the "It's a bird, it's a plane" thing. I told DeLuise I didn't even want to read it anymore. He said "Let me guess — next page is a splash page of Mon-El." Well, duh.
There is something quite fundamental about this situation that puzzles me. The people of Earth (or just Metropolis? Can't remember) banned all Kryptonians except for Superman. The reason? The superpowered Kryptonians posed a threat to them, but Superman had earned their trust, so it was okay for him to stay. So Superman acknowledges this trust by defecting from Earth to join New Krypton (even if it's just a ruse) and leaving a super-powered stranger in his place, who, as far as Earthlings know, might as well be a Kryptonian.
How would this work? The whole functional premise behind this is that Earthlings only trust Superman when it comes to Kryptonians. If I'm an Earthling, I'm not so sure that the distinction between Kryptonians and Daxamites would effectively be anything more than a semantic argument — they're still super-powered flying people that I don't know and I don't trust. Superman could very easily say "Hey, it's cool, Mon-El is someone you can depend on," except for the fact that Superman just publicly defected from Earth to join the people that the Earthlings don't trust.
(more…)