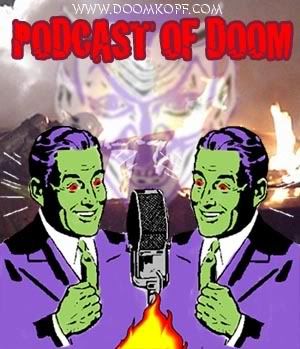 [SFX: Intro music]
JIM DOOM: Hello and welcome to this week's Podcast of Doom. This week saw the release of two significant second-generation hero books, Captain America #50 and Battle for the Cowl #3 of 3. I'm joined by my co-host, Doom DeLuise, to discuss the second of those two books. How's it going, Doom?
DOOM DeLUISE: Always a pleasure!
[SFX: music fade out]
JIM DOOM: I sat down and read Battle for the Cowl #3 at lunch the other day, and when I turned the last page and finished it, I thought to myself "That is one of the worst stories I have ever paid money for." I'm going to give you an impromptu list of what was so bad about it.
DOOM DeLUISE: Everything?
(more…)