"The Panic at the North Pole!"
A note from glancing at the beginning of this issue: 15 out of the 22 sentences in the opening 2 pages end with an exclamation point. Hopefully that drives home to you how hard they were trying (very hard) in these precious first issues of GI JOE to deliver groin-grabbing excitement. I think they're trying a little too hard.
The issue opens on a decimated American winter base in the middle of the Arctic. To set the stage of what's going on in the world at the time that this series was started, the Americans immediately suspect "Ivan"—The Russians. If you're looking for real Cold War nostalgia, look no further. And there will be more. Much more.
Anyway, the JOEs visit a nearby "Ivan" base to see if the Russians are indeed behind the attack on US property. As they arrive, an Eskimo goes inside the "base" (aka TUFF SHED) and leaves shortly thereafter. When he's gone, the JOEs search the base to find the Russians dead and some equipment missing. Snake Eyes finds an armed bomb and the group escapes just before the base explodes. Speaking of Snake Eyes, we also learn in this issue (at the beginning) that Snake Eyes has a massively deformed face. We don't get to see this, of course. We find out in classic comic fashion– by some guy remarking on it ("My God! Your face!") from an angle where we can't see.
The Eskimo turns out to be Kwinn; in this issue he's a total weirdo but he eventually becomes important. The US army brass sends a communique on Breaker's teleprinter: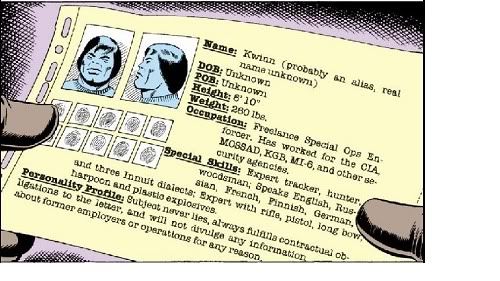 (more…)