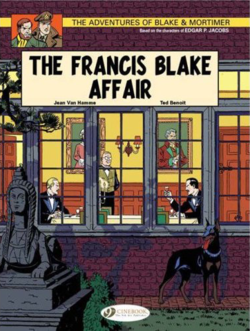 By Jean Van Hamme (W)
and Ted Benoit (A)
Published by Cinebook, 2008; 68 pages; $15.95
The Adventures of Blake & Mortimer is a reprint series of comics starring characters created by Belgian writer / artist Edgar P. Jacobs in the 1940s. The first three volumes issued by Cinebook were works created by Jacobs. After Jacobs passed away in 1987, the series was revived by other creators. Volume 4, The Francis Blake Affair, is the first post-Jacobs entry among the Cinebook translations.
In this volume, Captain Blake is working with MI5 to uncover a secret spy ring in England. Blake confides an ironic suspicion to his friend, Professor Mortimer, that there are moles within the British military. This theory is quickly proven true, as Blake is caught on camera making a dead drop for another spy. Blake's treason becomes national news, as he escapes with the captured spy and goes underground. Professor Mortimer, meanwhile, finds himself under suspicion as Blake's closest friend. He becomes a fugitive himself as he escapes surveillance and attempts to discover what's really going on.
Throughout the action and various twists, the duo's paths converge, including a requisite run-in with arch-nemesis Olrik. Although first published in the 1990s, the story is placed firmly in the mid 20th century, in both the story and the delivery. It's presented in a "retro" style that manages to be charming without being kitschy or campy.
It's also somewhat deceptively satisfying for only being 68 pages. This thing is dense. I realize I'm risking making myself sound like an idiot, but I have become so conditioned to the relatively light breeze of reading mainstream superhero comics that I seriously had to stop myself and start over several times to adjust to the density of this storytelling. I just counted, and there are more than 330 words on the first page; there are 66 words in the first panel alone. It's rare to find a page in this book with fewer than 10 panels. There is a lot of story packed into those 68 pages.

I found Van Hamme's writing style took a little getting used to, but again, only due to the density and my dumbed-down conditioning. Benoit's art is clean and the storytelling is amazingly clear, even with some unconventional panel layouts that were presumably required to pack so much into a page.
The Grade: A-
I've had a tough time disliking anything I've read so far from Cinebook. Maybe it's due to my increasing dissatisfaction with mainstream superhero comics, but books like this and the Green Manor series have just been so refreshingly enjoyable.
I had no knowledge of these characters going in to Volume 4, yet I had no problem getting sucked into a fun little action / adventure story. There was some reliance on convenient coincidences in this story, which is a pretty big pet peeve of mine, but overall, I definitely enjoyed it. These are the types of books I've been recommending to people lately, and I look forward to checking out other volumes in the series.