By Adam Slutsky and Joseph Phillip Illidge (W)
and Shawn Martinbrough (A)
Published by BDG Entertainment, 2008; 96 pages; $19.95
There's an issue of the Grant Morrison / J.G. Jones "Marvel Boy" miniseries in which Marvel Boy battles with Hexus, a living corporation. It establishes Brand Hex — a company that dabbles in a little bit of everything, and everyone knows they want something to do with it, but no one knows anything about it. The issue opens with a computer programmer and a musician both waiting in line to interview; each is surprised that the other would be interviewing at the same place, yet neither can really elaborate why, since neither really knows what Brand Hex is.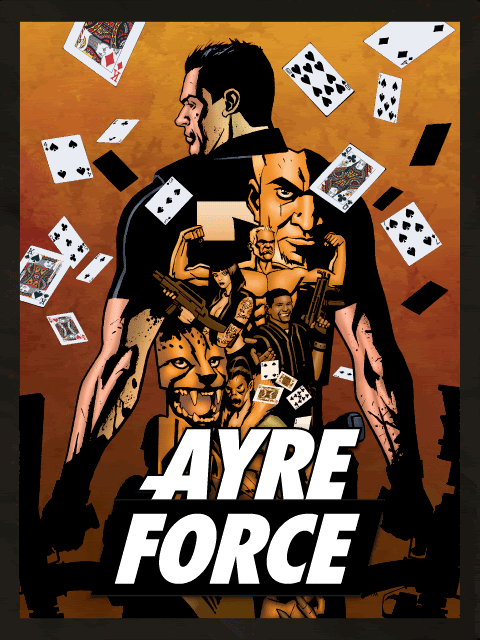 So when I received an email from Bodog's marketing people asking if Doomkopf would be willing to review their new graphic novel, "Ayre Force," I felt a little bit like a cog in the mysterious Brand Hex factory. All I knew about Bodog was that it was an offshore company … that had mixed martial arts fighting … and a record label … and poker. The marketing rep even asked that I include a link to Bodog's poker site in the review, with any anchor text I'd like (I'm happy to oblige). I felt like I was almost helpless to avoid getting sucked into this huge marketing machine.
The comic book, in addition to being a tangible book that you can purchase and read, is itself an extension of the Bodog marketing effort, as it features real-life personalities in the Bodog empire as its protagonists — Bodog founder Calvin Ayre and his assistant Fawn LaBrie; Bodog recording artists Bif Naked, Jason Darr and Nazanin; Bodog poker players David Williams and Josh Arieh and blackjack dealer Evelyn Ng; and mixed martial artists Jorge Masvidal and Tara Larosa.
The basic idea reminds me of a project one of my friends and I worked on when we were in middle school. During the first Gulf War, we passed the time in study hall writing fictional adventures of middle school students fighting off an Iraq invasion. Iraq Attack 1, Iraq Attack 2 and the epic Iraq Attack 3 put us and our friends in the middle of the struggle of good against evil. It was fun, but it was also a little bit embarrassing.

This comic puts those aforementioned Bodog personalities in the battle against a family of evil genetic engineers who seek to artificially jumpstart stagnated human evolution through human-animal hybrids. The premise behind the team, for the most part, is that these folks have special military / black-ops style training, and their respective Bodog celebrity lives are merely a cover for the world-saving that goes on behind the scenes.
The Positives:
I have to admit, I had every expectation that this would be awful. I imagined some clueless mega-corporation thinking "Hey, we can do the comic books too!" and then cranking out some patronizing effort to appeal to the geeks with the dough. But it was a lot better than I expected, and while it's not a make-or-break test, it sure doesn't hurt my opinion of a book when I'm able to read it in one sitting. There was nothing chore-like about finishing this book at all, and I enjoyed it quite a bit for what it was.
There's nothing too special or unique about the story, meaning it's essentially straightforward action/adventure type stuff, but writers Adam Slutsky and Joseph Phillip Illidge must be commended for putting together a story that manages to contextualize the Bodog personalities within this character structure, involve a pet cause (no pun intended) of the Calvin Ayre Foundation (to which proceeds from the book sales go — find out more at calvinayrefoundation.org) and build a fun, sci-fi / miltary action narrative that also sets up future adventures.
Shawn Martinbrough's art is a good fit for the story, as it is realistic yet dramatic with its strong lines and heavy use of blacks. The villains are a little cartoony, but I think that actually suits the story well, and the contrast prevents anyone from believing that Bodog musicians are actually secretly waging military war against bear-bile extraction sites.

She fights terrorists.
The Negatives:
As we're dealing with real people who wear somewhat normal clothing, and Martinbrough's art is often bold and somewhat minimalist, it can be difficult at times telling who is who. Also, the story is handicapped a bit by forcing the writers to not only involve these real-life people, but to justify why blackjack dealers and pop stars are on a paramilitary vigilante strikeforce.
The Verdict: C
I probably wouldn't recommend this book, with its $19.95 price tag, on the strength of the story and reading experience alone. But if the causes supported by the Calvin Ayre Foundation are ones you or a friend support, this is probably one of the more interesting ways to give money to a charity organization. The note from Ayre in the book says "…thank you for purchasing Ayre Force, the proceeds of which will go towards fighting the war against bear bile farming." That sounds like it means all proceeds; usually if it's just part, the copy reads "a portion of the proceeds…" So that seems awfully generous and encouraging for anyone who wants to make sure their money is going to help.
If nothing else, it's just fun watching the mythologizing of poker players and Beauty Pageant Queens turned Pop Stars, attempting to give noble justification for things like online poker and caged fighting.
Best of all, you can rest safe knowing that you are helping continue the worldwide domination of Brand Hex.