March 12, the most recent comic book day, was my birthday. My wife took the day off to hang out with me, and one of the things to do on my list was go to the comic book store. I tried and I tried, and I could only find 3 comics I wanted to buy, but it turned out to be a very good week.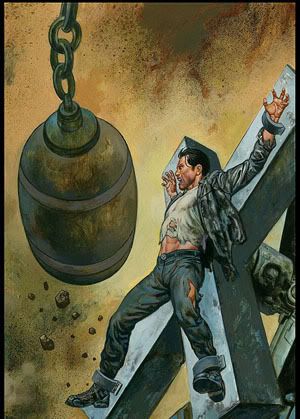 Even though Messiah Complex somehow left me not caring about it as much, I am still loyal to X-Factor and thus picked up X-Factor #29. I'm not sure why I've had such little interest in this book. I don't even think it's because of the PANS vs REMS battle looming in the background. There's just something going on – likely related to my overall apathy toward comics in general – that made me not care to even open this book. In fact, it was the last of my three comics that I read this week.
Well guess what! I really liked it, and it got me excited about reading it again. And want to know the greatest irony? It was by bringing back one of the lamest villains EVER! Spoiler alert on, but the villain is ARCADE!!!! I even kind of suspected that early on, but thought to myself, "They wouldn't bring him back — he's just too lame."
But part of what has made X-Factor so good in its 2-plus year run is Peter David's ability to give the absurdity in these people's lives some painfully real context. In fact, I might say that's the single best thing about this book. This is a fairly ridiculous cast of characters going through almost Seinfeldianly bizarre situations and interactions, yet the stories remain firmly rooted in how these guys deal with them on a personal, emotional level.
Could there possibly be a better book in which to drop one of the most ridiculous comic book villains ever? The answer is no.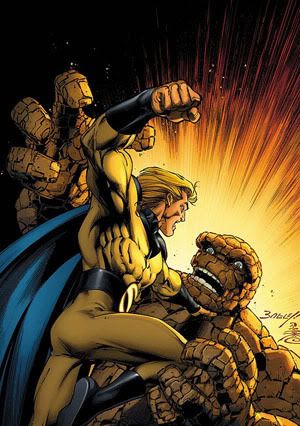 Speaking of potentially lame blasts from the past, that leads me to Mighty Avengers #10, in which Tony Stark, The Sentry and Doctor Doom have ended up in the '60s, or sort of the '60s, since the Marvel timeline seems to kind of constantly shift to where the real-life '60s were always about 10 years ago. I think I even remember reading somewhere that that's actually official.
The ol' Mighty Avengers need to get a move on, because the delays in this title seem to be holding back the rest of the Secret Invasion. Issue #12 is supposed to come out in April. But I bet Mark Bagley's a pretty good guy to have on pencils if you're behind on a deadline. I'd never been a fan of his, actually stooping to the level of disliking his art at times, but he's definitely a good fit for an action-packed superhero book.
(more…)