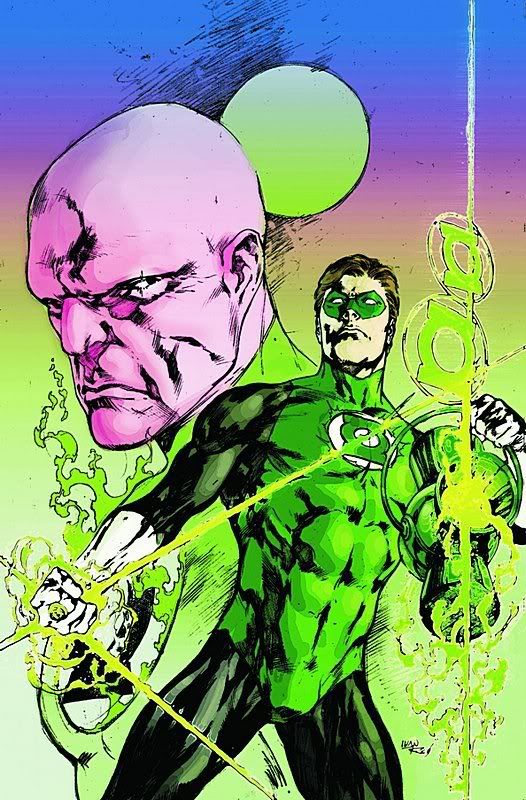 At first I was really excited about the Secret Origin of Hal Jordan miniseries. Hal Jordan's Green Lantern has always been one of my favorite characters, Geoff Johns is one of my favorite writers and Ivan Reis is one of my favorite artists.
But then I started reading it, and I was like "Man, I've heard this story so many times." I don't know why, but I feel like I've read Green Lantern's origin a billion times. I've read it in the old '60s Green Lantern series. I think it was covered in Green Lantern: Rebirth. It was in that stupid New Frontier movie. But I just started this issue thinking "Oh yeah … I already know all of this, and this is going to be boring."
Though almost as predictably as this review is changing tones, the story I've heard over and over still managed to be told in a very fresh and moving way. The relationship between Hal and his family has been addressed before, but Johns managed to use that little tale of Little Brother Jimmy and Hal's birthday present to illustrate so much about these people, especially the drastically different relationship between Hal and older brother Jack.
Geoff Johns has such a talent of telling massive stories through these small, personal moments. There's an emotional impact in that scene of Jim's eventual delivery of the birthday present that you just don't find — and don't even expect to find — in the spandex superhero comics.
It was a completely added bonus to discover that Abin Sur's story will shed some light on the Blackest Night prophecies. I would've been completely pleased with this issue and the direction that the Secret Origin was going even without some tie to what's happening now. I was totally content with a several-issue pause, so it was a great treat that this look back in time will have significance about what is yet to come.
And with Ivan Reis back on the art, it was an all around fantastic issue. Let's see what Fin Fang Doom thought about the issue.
Fin Fang Doom:
When I first heard Geoff Johns was going to re-tell the origin of Hal Jordan, I wasn't that thrilled. We all know Hal's origin, just like we all know the origin of Superman, Batman, The Flash and all the other big guns in the DCU.
But when I really started thinking about it, I realized I've never actually read the origin of Hal Jordan. As a relative newbie to DC Comics (Countdown to Infinite Crisis was my first DC book, only three years ago), I haven't read an in-depth origin on most of the DC superheroes. And experience tells me that you can trust Geoff Johns to tell a compelling story even if you already know the ending.
But as it turns out, I didn't know the ending.
Abin Sur: "I will know everything you know, demons. About then fate of the universe. About cosmic revelations. And about 'The Blackest Night.'"
Turns out, this is all somehow tied into The Blackest Night, the upcoming finale to the GL:Rebirth/Sinestro Corps trilogy. Johns did such a good job on the first two stories that I'm more eagerly anticipating Blackest Night than I am Secret Invasion and Final Crisis combined.
Thing is, I keep forgetting about it. The story is such a long way off (summer 2009, I believe), that it never crosses my mind that Johns would be setting up for it already. Yet this is at least the third time since the end of the Sinestro Corps War that there's been a development in the buildup and it's still as exciting and new as the first time.
Oh, what did I think of the issue itself? It's Green Lantern, by Johns and Ivan Reis…it doesn't really get much better than that, right? There were some great character moments that you don't get in the short version of an origin story, but nothing that really blows the doors off of what I considered to be Hal's "Secret Origin". The cameo by John Stewart in the bar fight seemed a little forced, but it really is in the tradition of non-ringed GLs getting into a fistfight.