Don't go falling all over yourselves, because it's time for this week's Doomino Effect. Actually that's a lie, because normally Tuesday is time for the Doomino Effect. But Fin Fang Doom didn't buy enough comics last week to justify his weekly "Meaningless Awards" and Jean-Claude Van Doom hasn't swung by yet with his "Worst to First," and Doom DeLuise's last words to me today were "post a new blog," so here we go.
Now let it be said, you may have thought to yoursef that I tend to only give somewhat favorable reviews. While I have known to dislike comics now and then, I do what is rather unique and groundbreaking in the world of comic blogs, and that is I buy comics that I like. So the odds of having anything resembling a 50/50 split on good and bad are unlikely, and quite possibly devastating to my comics habit.
I'm going to try something different this week. Usually I carefully arrange the order of these books so that I might seamlessly segue from one to another, hence the implied domino effect. This week, I'm going to push myself to the limit and just go in the order that they're currently stacked and just make the magic happen.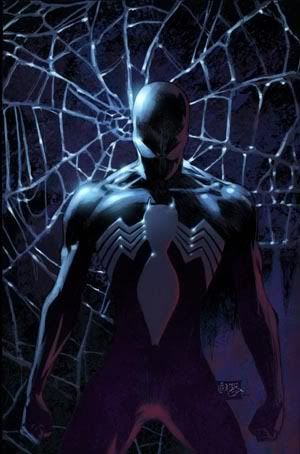 First up is Amazing Spider-Man #539. I don't normally read ASM, but I picked it up last issue because it was supposed to be a big deal and I wanted to read the big deal as it happened. Well, I thought it was a stapled pile of crap folded in half. This issue at least was a big improvement on that. So now it's a stapled mediocre blah folded in half. It's really unfortunate that Kingpin is the bad guy, since that means Daredevil apparently takes place in the future. Too bad there couldn't have been more communication there. But to me, this issue reads like a comics from the 70s or the 80s where the people don't have real emotions or take real actions – they have COMIC BOOK emotions and take COMIC BOOK actions.
I'll do my best to illustrate what is essentially a gut reaction, but Kingpin is such a "bwahahaha" villain in this, quoting Euripides and just talking like a caricature of a villain rather than the cocky stud he is. Sure Peter might be losing Aunt May, and yeah, people are going to react to that very harshly, but he goes immediately to the vengeance stage with lines like "I don't knock – I'm not in the mood," which just seem like they should be in Lone Wolf McQuade and not a 2007 comic book. Well, at least now he's in a black costume, so marketing is probably happy.
Ron Garney's art is solid, but I can't help but wonder if that's contributing to my instinctive reaction that I accidentally picked up an issue of ASM from the 70s.
(more…)