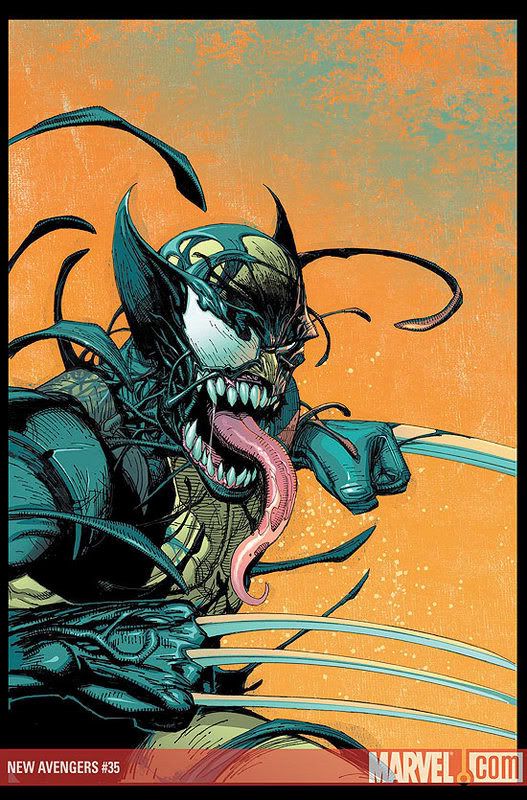 This week we chose Marvel's Brian Michael Bendis flagship title, The New Avengers, for our roundtable review. I figured we'd be stirring up for a good blog slapfest, since Jim Doom is one of the biggest Bendis fans around, and Fin Fang Doom bleeds in his intestines just from reading a Bendis-penned comic. Me? Call me a fence-sitter. I used to love Bendis, then I got sick of him, now I think he's pretty good.
I started reading New Avengers a few months back, then broke down and bought last month's issue and now this one, both of which focus heavily on new villain The Hood, who's trying to organize a criminal syndicate. I was looking forward to this issue, since the last one was pretty darn slow (the heroes sat around for the last two-thirds of the book and talked), and the cover to this one shows a symbiotic Wolverine with claws bared. Excitement!
Except… Not so much. We get one panel of symbiote-infused New Avengers attacking the Mighty Avengers, on one of the book's last pages. So, thanks to Marvel marketing, this book really had no chance of living up to expectations. Instead of showing us how the New Avengers were overwhelmed by the symbiotes, or any of that earth-shattering fight, we get two-thirds of an issue of the villains sitting around and talking. For once, I didn't ever feel like Bendis left a huge thumbprint on the issue. It was just boring. Incredibly boring. Those yawner scenes had some predictably nice dialogue and character moments, sure, but they could've advanced the plot just as much and been trimmed considerably. It's especially frustrating since we didn't learn much more about the Hood, except that he's well organized and he wears jeans.
There were a couple of nice scenes at the beginning and end of the issue, but all that does is qualify it as a turd sandwich. Yum.
Now, Marvel marketing mistake number two: I really liked the first scene with Tigra, particularly how Bendis wrote Scarface (Leinil Yu also draws him better than anyone), and the last scene where she gets thrashed by the Hood should have been a really heavy moment. But Marvel chose to promote the issue with the kitschy line: "Guest starring Tigra. Poor, poor Tigra." So, first off, I knew exactly what was going to happen before I read the issue. Second, all I could think about as I read it was how Marvel chose to promote the issue with a cute little joke about a female character being beaten within an inch of her life. "Tigra gets pwned!!! LMAO!"
Maybe I would've liked the issue without those two stupid decisions, but I definitely wouldn't have loved it. Honestly, I think this is the end of my New Avengers experiment. Let's see what the rest of the League thinks: (more…)