I am not a long-time DC geek. I say that because I want it to be clear that I'm not approaching this topic with a sense of entitlement, that "I've been reading DC for 20 years so they damn well better not mess things up…" If anything, my recent conversion into a DC fan (starting with Identity Crisis and increasing with Infinity Crisis and all the tie-ins) allows me to say what some might call heresy: The multiverse can go to hell.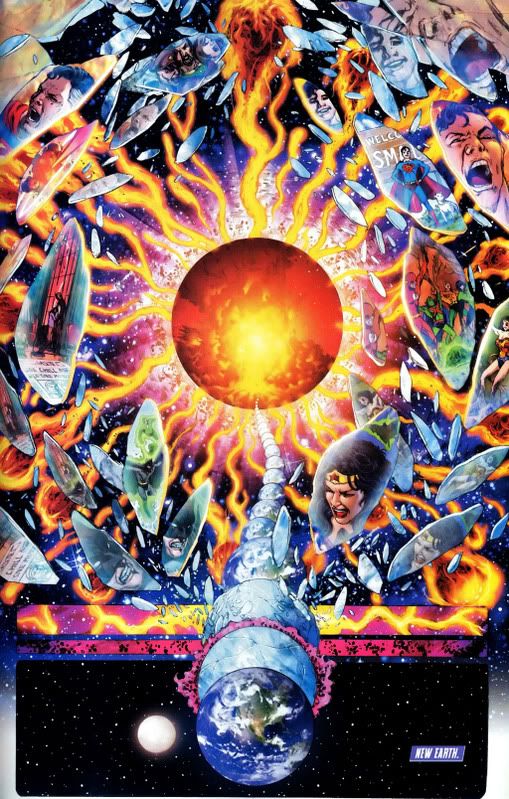 I understand the purpose of the multiverse, the whiff of sci-fi that it brings into comics, the way it allows generational gaps among heroes and how nice an element of confusion it can be. But it's a crutch, and always has been. It's a way to explain incongruities amid continuity (which seems a bit ridiculous, since we're talking about make believe men in tights). So it was that during Infinite Crisis (which was as well coordinated and dramatic of a mega-event as comics has ever seen), I almost felt relief to see the multiverse bite star dust. Good riddance to bad rubbish and all that.
But now, as revealed in an amazingly cipherable riddle from Dan Didio, we know the multiverse "still exists." And this pisses me off.
I suppose, having said the above about the multiverse's inherent worthlessness, I could simply say that the multiverse is needless crap and I'm annoyed to have it further meddling with my future enjoyment of DC comics. Just as any stamp of Civil War on a Marvel cover sent me running, I'll be carefully looking out for hints of multiversial intrusion into my books. Any whiff of cross-dimensional mischief, and I'm gone. However, that isn't what really annoys me about this news. That would be the very clear problem that any revival of the multiverse invalidates so much progress DC has made and stomps on the company's defense of its mega-event. Bringing back the multiverse completely invalidates Infinite Crisis.
(more…)