The weekend of zombie walks is just a few days away, so here is all the information you'll need to participate in Omaha. Click on either poster for a much larger version with all the info.
• Saturday, October 25: Benson
4-5 p.m.: Meet at The Waiting Room (6212 Maple St) We will have someone applying make-up for a small fee to cover the expenses) for those who need it.

5:30 p.m.: Zombie Walk begins along a designated route through the streets of Benson (see map).

6-ish: Immediately at the end of the walk, Zombies will gather to get an official head count, hand out free Zombie Walk buttons to all the zombies, and take photos.

7 p.m. – 1 a.m.: ZOMBIE BALL begins! Meet at The Waiting Room for bands and fun! Bands include a SOCIAL DISTORTION tribute band called SOMEWHERE BETWEEN HEAVEN & HELL, OFFICIALLY TERMINATED, SIN, THE CLINCHER, DI-FI, and tba! The Zombie Ball is an All Ages event, but if you are under 18, you must be accompanied by a legal guardian, or you must have the signed/notarized parental permission form (see blog). Anyone over 18 must have proper ID. Admission is $7. All proceeds go to the Muscular Dystrophy Association.
For more information on Saturday's walk, check out myspace.com/zombiewalkomaha.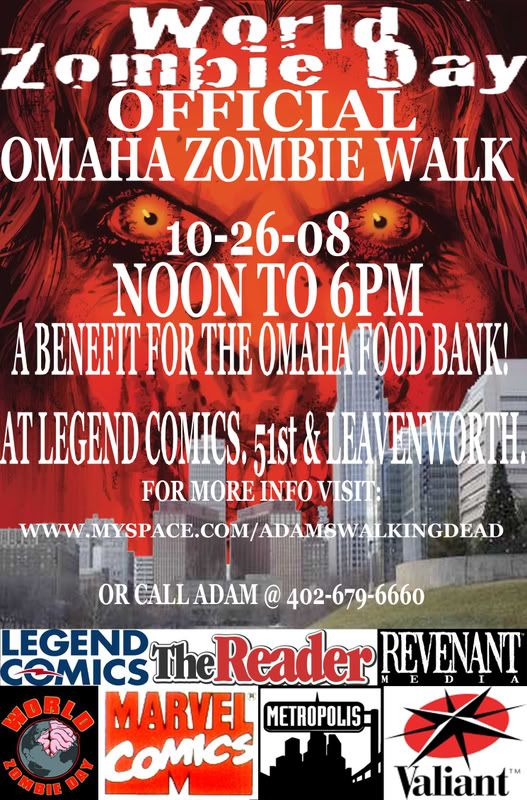 • Sunday, October 26: Legend Comics
On Sunday, October 26th, people from all over the metro area are encouraged to shamble their way to LEGEND COMICS, 51stand Leavenworth, from NOON until 6PM with their non-perishable food donations and join the festivities that will become the first annual Omaha Metro Area Zombie Walk!

Food and drink will be provided, as well as prizes for the best-looking Zombie, the best Zombie shamble and the best Zombie groan!

Currently we have prizes and give-aways from Marvel Comics, Metropolis Records, Valiant Entertainment, Roadrunner Records, Capitol/Virgin EMI, Diamond Distribution, Permuted Press, Speakeasy Publicity and more to be announced soon.
For more information on Sunday's walk, check out myspace.com/adamswalkingdead.
Both zombie walks have shared their own sets of rules. There's plenty of overlap, but if you plan on attending either, it's probably a good idea to read both.

From the Benson walk:
Yeah, yeah, we know. You hate following the rules and that's what a zombie walk's all about, right? Well, yes and no. We're bucking the norm…but we're also not trying to get in trouble right? As much as we want to see as many cold, dead, rotting carcasses roaming the streets as possible, if you can't follow the rules, PLEASE don't show up.

BLOOD: If you're going to use blood when "attacking" victims or being "attacked," don't use anything that will stain the sidewalk. In fact, try your darnedest not to get anything on the sidewalk.

SIDEWALKS: Speaking of sidewalks, STAY ON THEM! Don't run out into traffic. Don't jaywalk.

BEHAVIOR: Be on your best zombie behavior. Don't scream profanities (you're a zombie – you should be groaning for brains anyway). Don't attack anyone who isn't a designated victim. (More on this shortly.) Do not enter any businesses. Do not touch the windows of businesses. Do not touch anyone's vehicles or any other private/personal property.

POLICE: Obey all laws at all times! It's that simple. You want to be able to have this event every year right? We want this event to happen without any incedents.

We know this looks like a lot of "don'ts," but it's for everyone's safety. We want you to stay safe, have fun, and most importantly, be able to return for future zombie walks in the area!

How to be a Victim
If you want to be a victim in this year's Zombie Walk, here are some guidelines. First, identify yourself properly as a victim by placing a duct tape "X" on an obvious place of your clothing. After the Zombies see you, the plan will be to swarm the victim, concealing him or her from view, allowing the victim to crouch and apply makeup, blood (NOTE–the city will FINE anyone for getting ANYTHING on the sidewalks or pavement!) rip clothing, and of course, vocalize! When you're ready to rise as a member of the Undead, just give the Zombies a signal, get up and resume the Walk!
Some tips to remember:
1) Place the duct tape on a prominent part of your clothing and play it cool until the Undead arrive. We want the impression that you are really a victim, not a willing participant. If somehow the Zombies don't see that you want to be attacked, make a fuss, yell about the Zombie Apocalypse, and bring attention to yourself. We don't want anyone to be left out that wants to be involved.
2) Place starter holes in any clothing you want ripped, and make sure that you can rip it yourself with little assistance; we don't want any Zombies getting in trouble for ripping clothing that victims want to keep whole.
3) Scatter yourselves along the route of the walk so that there are victims the whole way, don't get too clumped up, we want the impact of the attacks to continue throughout the walk.
4) Please be careful that you do not go into the street or run into someone accidentally or disobey any laws. If someone gets the wrong idea and thinks you're really being attacked, stop and explain the situation so that they don't get too concerned and then get back into character whenever you feel that they are comfortable.
5) Have fun with it! Scream, yell, put up a fight, and get into it! The makeup and the blood are important to make you look the part, but the number one way to identify a Zombie is attitude. When you rise, everyone should be clear that one more Zombie has joined the horde.
from the Legend walk:
1. Use the "haunted house" rule in that you are not to touch anyone.
2. Do not attempt to scare anyone who is not a willing participant. If anyone is freaking out, turn and shamble in the opposite direction. Avoid confrontations!
3. Stay on the sidewalk unless crossing the street. When crossing, it's OK to "break character" and cross quickly. Think fast "New Dawn of the Dead" zombies verses the slower "Old Dawn of the Dead" zombies when crossing the street. Blocking traffic is a crime and anyone doing so could be arrested.
4. No drugs. None.. Forget it.
5. No alcohol outside the bars. This will get you a nice fine.
6. No littering, destruction of property, or any other illegal activity. Pretend the site where you hold your walk is your own neighborhood and show the utmost respect. This is something we would like to do many times a year and we don't want to ruin it. Remember, the media will be watching us (along with the police) and this event could get world wide news coverage. Let's put on a good show.
7. Depending on where you hold your walk, keep in mind you might be asked for a picture ID at the bars and your zombie face might not match your picture ID. If you are refused entry, please understand the doorman is only doing his job.
8. Please do not attempt to push your way into any business if you are not welcome.
Again, check out the myspace pages — Benson and Legend — for full info.