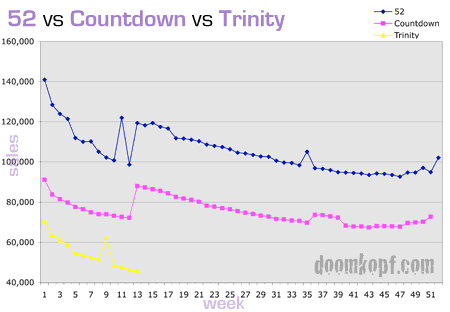 JIM DOOM: The August sales figures were released yesterday, and regarding these new Trinity numbers, there are two things going on here.
There's the obvious drop-off in the number of readers who gave up on weekly comics, presumably due to Countdown's awfulness. You have to get to week 36 of Countdown, which is past the point I gave up, to get sales as low as the first issue of Trinity.
But the second thing going on here is the astounding drop-off since the first issue. After 13 issues, 52's sales dropped 15.3% since the first issue; Countdown's dropped only 3.4%. Trinity dropped 34.9% from issue 1 to issue 13. More than a third of the people who picked up the first issue have given up on this series in only 13 weeks.
Though the first two titles' week 13 numbers were clearly aided by the artificial spike seen above, that still doesn't change the fact that 52 never lost 35% of its first-issue numbers. Neither did Countdown.
52's lowest point was at #43, which was a 33.7% drop from first issue sales, but it never dipped that low again. Countdown's lowest sales figure was at issue 9 (week 42), which was a 26.0% drop from its first week.
It's also worth noting that 52's first issue was much more of an outlier than Countdown's.
DOOM DeLUISE: Whoa. I think a lot of people bought issue 1 of 52 just to see what it was all about, and then just decided against it for whatever reason. The second two weekly series suffered from people knowing what they were getting themselves invested in from the start.
(more…)