Are you familiar with the company "Mondo?" They make some of the most consistently cool stuff I've ever seen. Seriously. Every few months, I go visit their blog, and it always just blows me away. According to their website:
Mondo creates limited edition screen printed posters for our favorite classic and contemporary films, in addition to vinyl movie soundtracks, VHS re-issues, and apparel. We also have a permanent gallery space in Austin, TX featuring a mix of original artwork and limited edition screen prints.
Take, for instance, this limited edition alternate poster for The Man of Steel, created by Mondo's Ken Taylor: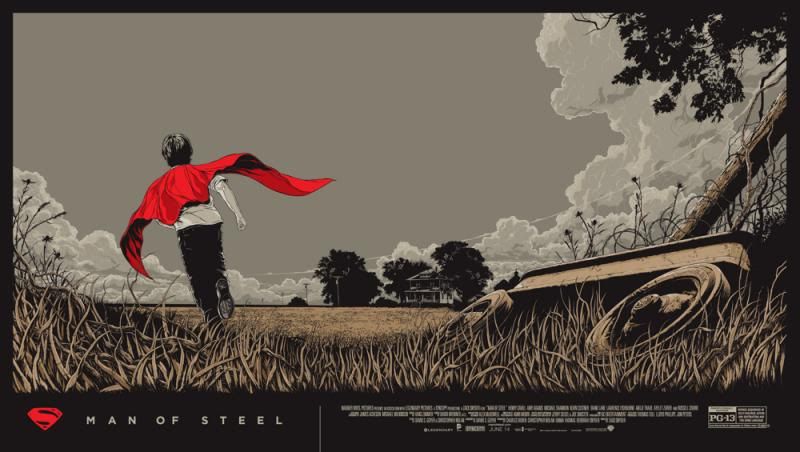 Click the image for full size.
Granted, it's hard to get your hands on anything if you don't live in Austin (hey, Fin Fang Doom, buddy, Christmas is coming up, hint hint – – oh, wait, no it's not, nevermind, it's winter where I live and I'm confused), but they seem to be doing more and more promotions where they're putting their stuff up for sale for limited amounts of time, rather than just having limited quantities.
That above poster, for instance, was up for sale in the three days prior to the movie's release, and everybody who ordered one got their copy. After the 72 hour window, they shut the sale down and those puppies are now completely out of print.
You can keep up with them on their blog here: Mondo: The Blog
Or you can follow them on Twitter here: @MondoNews
I swear, I'm not getting anything for posting this, nor do I want anything. I'm shilling the shit out of this company, yes, but it's because I think they're amazing, and I hope they keep doing more of what they're doing. Go poke around on their website, or Google search for some of their past work. It's worth it, I promise.