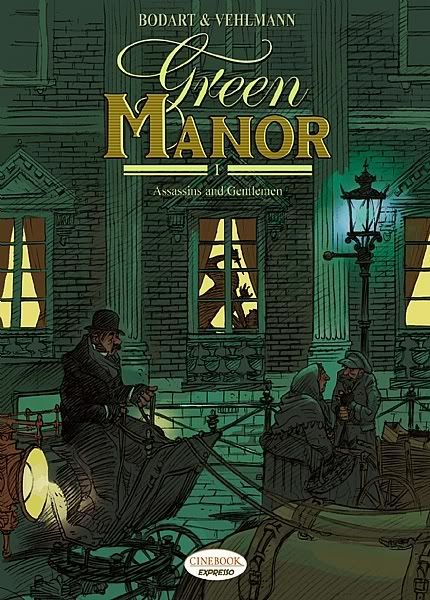 Jim Doom says: Green Manor, vol. 1 (Cinebook)
Cinebook was hands-down my favorite publisher of the year. I don't think I've ever so unanimously enjoyed a single company's output, most (if not all) of which is English translations of continental European comics.

The best of the best was Green Manor volume 1: Assassins and Gentlemen, a collection of humorously grim short stories by Fabien Vehlmann with art by Denis Bodart. Volume 2, The Inconvenience of Being Dead, was also released in 2008, but I give the nod just slightly to volume 1. Both are among my favorite releases of the year and well worth the high dollar-to-page ratio. $13.95 for 56 pages would normally seem ridiculously steep, but as with most Cinebook releases, there is a lot of story packed into those pages, and I've already reread this at least a half dozen times.
Doom DeLuise says: Booster Gold: Blue and Gold!
I don't buy very many TPBs, because I normally just buy the comics I want when they first come out. Duh. And, no, I didn't buy this. I already had all the issues.

But, just because I don't buy collections doesn't mean that I don't spend a little bit of time at Barnes and Noble leafing through them. Ok, let me rephrase that. It doesn't mean that I don't spend all day at Barnes and Noble reading all the way through them.

This one came out late in the year, around November, and it collects the story where Booster travels through the timestream to save his best friend, Ted Kord, from being shot by Maxwell Lord. Yes, it involved OMACs, and yes, I know those are annoying as hell, but the story was still compelling, and I have to give the nod to this one as best of the year.

Granted, it's only out in hardcover, so maybe you should wait for the cheap version or just do what I do and read it at the store. I really can't stand having to pay five extra bucks for a different cover. That's highway robbery. I'm with Jim Doom on this one.