How embarrassing! As I sit down to write this, it's 11:20pm on Tuesday and it just occurred to me that I forgot to write this week's Doomino Effect!! I even sat here and commented on the site several times today. In my defense, I kept thinking today was Monday. I also kept thinking that yesterday was Monday, so either I thought that this week had two Mondays or else maybe I just thought Monday was really long.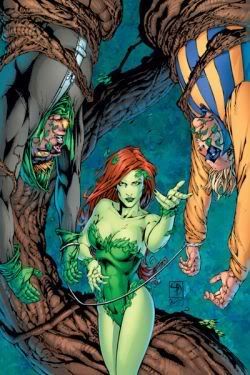 Well speaking of embarrassing things that drag on, let's start with Countdown #37. I think I said last week that I didn't think #38 was as awful as the previous ones, or maybe it showed promise or something. Well, this week, I'll go so far as to say that I kind of liked the issue.
I don't really know why though. I don't think Doom DeLuise has bothered to write his review this week, so I'll spare no detail. I thought it was stupid that Oracle told Karate Kid to sit down so that she could deliver no news. You tell people to sit down when you have bad news, not just to build up drama for an anti-climax. She also seems somewhat surprised that maybe the virus is from the future. Could this be, I don't know, obvious perhaps, since Karate Kid is from the future?? It seems like it was all just set up for Triplicate Girl to refer to "The Great Disaster."
Then we're treated to Inconsistencies With Zatanna's Stupid Spells, as she says "Emoh su ekat" and "Ffats ekat a kaerb" in the same scene, which either means she cast spells saying "Home us take" and "Staff take a break" or else people at DC Editorial can't wrap their heads around one of the stupidest spell-casting mechanisms in history.
Like what if she's hanging out with her mom, and her mom makes this amazing cheesecake. Zatanna takes a bite and says "Wow Mom!" because normally her mom sucks as a cook. All of a sudden, will there be like tapdancing ostriches in the kitchen attempting to impress her mother? So very very stupid. But I'm digressing, because the inherent stupidity of her spells is not exclusively a problem to Countdown. Just the error with "Emoh su ekat."
We return to tiny land where Jason Todd continues his competition with Nightwing to be the most horribly miscast character in the DC universe. Jason is an evil genius, but instead he's written like a cocky, dim-witted meathead.
I still want Piper and Trickster to die, and I still don't care what's going on at the women's shelter, but I think the big thing that made me like this issue was that – with the cliffhanger of Jimmy knowing Clark is Superman – I actually want to know what happens next issue! I do believe this is seriously the first time that has happened with Countdown.
Here's my two-part theory at this point:
(more…)