Jim Doom: Blackest Night #0!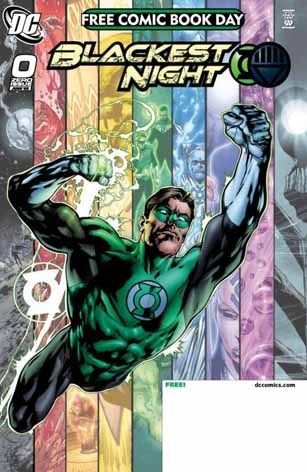 Geoff Johns has written quite a few comics this year that I completely disliked, moreso than in any other year I can recall. But when he's been good, he's been great, and Blackest Night #0 was a perfect example. This issue was a fantastic combination of a big-picture scene-setters for the upcoming mega-event with small-scale, touching moments between friends.

I wrote at the time, "He packs so much power into so few words when he needs to, like "It's not my fault hiding in the shadows is your only 'super power'" and "…If there's an escape [from death], you can bet Batman's already planning it." Then there was that fantastic bit of dialogue in which Hal reveals the new Robin to Barry:

HAL: "…And Robin's insisting that Bruce isn't really gone."
BARRY: "He's holding onto hope. That's what Dick always gave Batman."
HAL: "I meant Tim Drake, Barry. You haven't met him yet. He's the current Robin."
BARRY: "Right. Tim Drake. I like him already."

I mean how sweet is that? Barry learns a little about the new Robin, but the readers learn a ton about Barry, and count me among the readers who needed to learn about Barry, particularly after not liking him much post-Flash: Rebirth #1. But what is so cool about this is that these two guys who have returned from the dead are having the luxury of reminiscing on their deaths as part of a conversation, all the while the threat of the Black Lanterns is looming overhead.

Honorable Mention: Giant Size Old Man Logan. This took forever but it was so worth it, even if it had Wolverine in yet another Men in Black ending. This has been one of my favorite comic stories of all time.
Here were our favorite single issues in previous years:
2008:
Jim Doom: (tie) Captain America #34 and Batman #681
Doom DeLuise: The Man Called Nova: Annual #1

2007:
Fin Fang Doom: Sensational Spider-Man Annual #1
Doom DeLuise: Criminal #5
Jim Doom: Civil War: The Confession

2006:
Fin Fang Doom: Infinite Crisis #4
Jim Doom: (tie) Wolverine #49, the Joker / Robin issue of Detective written by Paul Dini, Superman / Batman Annual #1, and the issue of New Avengers that was the Captain America solo issue.
Doom DeLuise: Villains United Special

2005:
Jean-Claude Van Doom: Ultimates 2 #9
Jim Doom: Wolverine #32
Fin Fang Doom: Countdown to Infinite Crisis
Colonel Doom: Countdown to Infinite Crisis