Jim Doom: "Return of the King," Daredevil!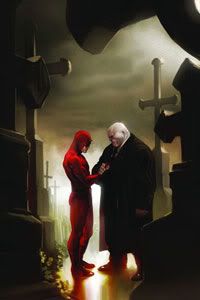 This was Ed Brubaker at his best, and by extension, Daredevil as well. It was a fantastic collision of longtime adversaries on a collision course with each other, bringing together events that had been laid out for years. I hated seeing Brubaker leave the title, but it was an amazing way to go out.

Honorable Mentions: "Whatever Happened to the Caped Crusader," Batman and "Old Man Logan," Wolverine. I loved "…Caped Crusader," but it was only two issues, and much of "Old Man Logan" was in 2008. Still, both were fantastic.
Here were our favorite storylines in ongoing series from previous years:
2008:
Doom DeLuise: "The Death of Captain America," Captain America
Jim Doom: (tie) "Batman RIP," Batman; "Brainiac," Action Comics
Fin Fang Doom: "One World Under Gog," Justice Society of America

We began this category in 2008.