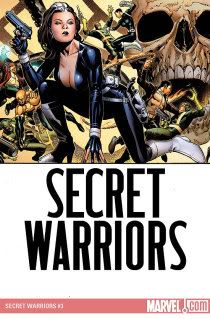 I'm responsible for the Book of Doom this week, and as all three of my regular titles came out last week, I'll be venturing into somewhat new territory, here. While I was really curious about the comics adaptation of Pride & Prejudice, and while Doominator tried to vicariously spite my fellow Doomers and having me choose the Franklin Richards April Fools issue, I ended up choosing a Nick Fury book, Secret Warriors #3. It's not necessarily a good jumping-on point, but it's the closest thing to something interesting to me.
The solicit sounds promising:
The most talked-about new Marvel series continues as HYDRA's plans pick up speed while more remnants of S.H.I.E.L.D. fall. Nick Fury reconnects with an old colleague and finds out that the balance has shifted between him and some of his former soldiers. All that, and the Warriors suffer their first casualty of war.
Rated T+ …$2.99
Join me this weekend, won't you?