In this episode: Green Lantern #37 | Amazing Spider-Man #583 | Guardians of the Galaxy #9 | Mysterius the Unfathomable #1 | Superman Beyond #2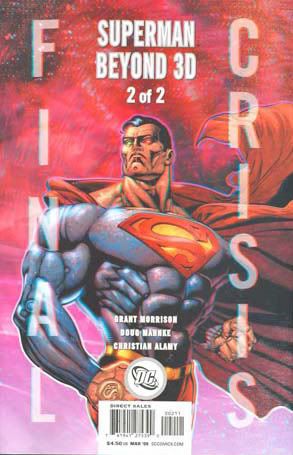 Speaking of Superman Beyond 3D #2, I skipped the first issue last summer because it struck me as dumb. Then Doom DeLuise told me that issue #1 explained how Superman could look away from Lois in Final Crisis #3 without killing her. I thought "Oh … that's good. At least Grant Morrison felt that was something that needed acknowledging." Nevermind that someone with so much contempt toward external continuity regarding his Big Event would then create some necessary external continuity, but that's another topic for an already-happened day.
For the life of me, I had a hard time remembering what happened in the first issue, even though DD loaned it to me a week or two ago, so I got the copy out again to cheat. A bunch of Supermen and Superman peers from across the multiverse were gathered to save the cosmos from the Destroyer, the "Echo of Midnight," bashing on this big bad ship as they careen diagonally through the multiverse, and they ended up in Limbo. They found a book that basically gave the DC multiverse its own point-for-point version of the Valentinian origin of existence. I'm not sure why Dan DiDio thought it was a good idea to let Grant Morrison rewrite the DC properties as an update of a 2,000-year-old gnostic tradition, but I also don't get why they brought Wally back so soon before bringing Barry back. Best I can tell, the story also revealed that Superman is basically a reflection of some kind of Monitor archetype. But Mandrakk the Evil Monitor arrives at the very end, and Ultraman is quite happy about this.
So now, issue #2. By gnostic terms, it appears as if Mandrakk is some Lucifer / Demiurge composite, as Ultraman explains "There is a God. And he hates us all," and he refers to his love of material extistence. I could be off on my gnostic mythology, but that seems to fit, especially considering how we later find out that Mandrakk was once Dax Novu, a.k.a. The Radiant One, a.k.a. the first son of Monitor, and we also find that he and the Christ / Big Robot Superman entity fit into some kind of cosmic duality, not unlike our Superman and Ultraman. But that lady monitor, whose name I keep forgetting, informs us that Mandrakk's arrival means "the circle of monitors has fallen." You know, for something that huge and profound, I really wish I could've seen that drama unfold rather than just being told it happened in a single word balloon.
(more…)