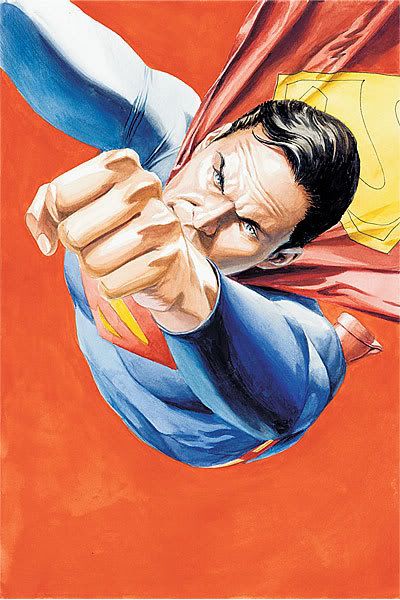 This is it, folks. The conclusion we've all been. . . waiting for? After a full year of build up (I can't type that with a straight face), six stuffed issues, and several spin-off mini-series, this is the end of the line for Grant Morrison's epic final chapter in the Crisis Trilogy.
For the most part, it's been a bunch of freaked-out gobbledygook, and the spin-offs have had almost nothing to do with the flagship series, but, still, tomorrow we'll be able to know for sure if it was worth the wait. Who knows, maybe tomorrow, everything will click into place and the rest of the series will finally make perfect sense, and we'll all apologize for giving Final Crisis such a hard time over the past few months.
I mean, probably not, but we can at least try to be optimistic.
Oh, and, just for those of you at home keeping score, by comparison, the seventh issue of the previous chapter in the Crisis Trilogy (Infinite Crisis, duh) featured an all-out brawl between all the superheroes and supervillains in Metropolis as well as a fight across the galaxy pitting Superboy-Prime against two Supermen, every other flying hero, and the entirety of the Green Lantern Corps.
Here's hoping Final Crisis #7 can live up to that! And, as always, feel free to send us your thoughts to doomkopf@doomkopf.com by Friday night to be included in the weekend roundtable.
Written by Grant Morrison; Art by Doug Mahnke and Christian Alamy; Covers by J.G. Jones and Doug Mahnke
The dramatic finale to the epic, seven-part saga of the DC multiverse concludes with an apocalyptic battle for the soul of humanity that must be seen to be believed! Can the heroes of 52 Earths save the multiverse? And is the only way to save it, to change it forever?