Sorry for the tardiness on this — I was waffling on what to choose for this week's Book of Doom and leaning toward Detective #851 but apprehensive about choosing a third Batman book in three weeks. Once I got to the shop, I realized that Secret Invasion: Dark Reign #1 came out. Apparently I looked right past it on the solicitations, because I wasn't expecting it at all.
The ending to Secret Invasion gave us a hint as to what Dark Reign would be, but it definitely created a list of new questions, not the least of which being "What are Namor and Emma Frost doing there?" Hopefully this issue addresses that. I've been worried it will be something like Brave New World or DC Universe #0 — just some collection of 3 or 4 page previews of books to come. I don't want to pay $3.99 for advertising. If nothing else, Daredevil fans might enjoy the reunion of Bendis and Maleev.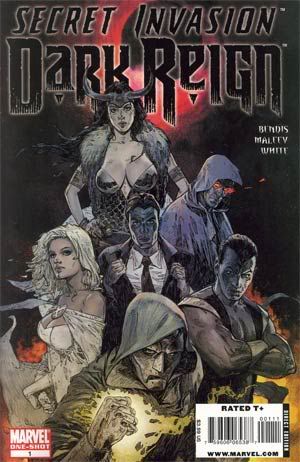 As always, we invite readers to submit a review for our weekend roundtable — just email us at doomkopf at doomkopf dot com by Friday night.
WRITER: BRIAN MICHAEL BENDIS
PENCILS: ALEX MALEEV

The Invasion is over!! There are winners and there are losers and in this major one-shot from the Eisner award-winning team of Bendis and Maleev, (New Avengers: Illuminati, Civil War: The Confession) the stage is set for the next major era in Marvel Comics. Hold onto your beenies, boys, because you have NEVER seen your universe turned upside down like this!!
One-Shot/Rated T+ …$3.99