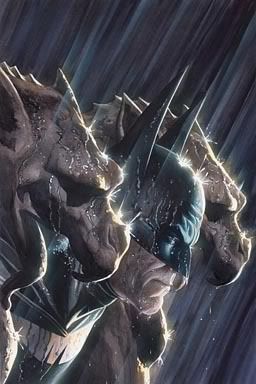 For this week's weekly roundtable review discussion, I've decided to pick the conclusion to the Batman RIP story-arc, Batman #681. If you're anything like me, you started out thinking that this story was unnecessary and boring, then you shifted to being confused and overwhelmed, then switched to being a little drunk, and, now, you're eagerly anticipating seeing everything come together to finally show what exactly happens to the fate of the Batman and who is, ultimately, the big bad guy behind the whole thing. Who is the Black Glove? Will we find out tomorrow? Three years from now?
These days, lots of rumors are floating around about who could possibly be the one to finally kill the Batman, or Bruce Wayne, or both. I've been guessing for awhile now that it's Dick Grayson who's behind the whole thing, based on several remarks writer Grant Morrison has said about the ending.
I read another interesting theory about who might be behind it just the other day, too. While I've never ruled out the possibility, a good point was raised about how Tim Drake might be the culprit. If you recall, several months ago, when this story was initially launched, Chuck Dixon left DC for a reason that has yet to be explained. Considering he wrote a lot of stories about Tim Drake, especially the ones where he went off to train on his own and separate himself as his own man, rather than just a sidekick, perhaps Dixon heard the ending and was so peeved that he quit out of spite.
Either way, it's going to be interesting to see what new information comes to light, if any, and to see where Batman comics are headed for in the future. As always, feel free to e-mail in your own review to doomkopf at doomkopf dot com, and we'll include it with the rest of ours. Or just leave comments. It's entirely up to you. Here's what DC has to say:
Written by Grant Morrison ; Art by Tony Daniel and Sandu Florea; Cover by Alex Ross; Variant cover by Tony Daniel

This is it – "Batman R.I.P." concludes here! The final, heartrending confrontation between Bruce Wayne and Jezebel Jet. The final fate of The Dark Knight. And the horrifying and shocking truth behind the Black Glove. With The Joker, the Club of Villains, Robin, Damian, plus an ending you'll never see coming – this one has it all!