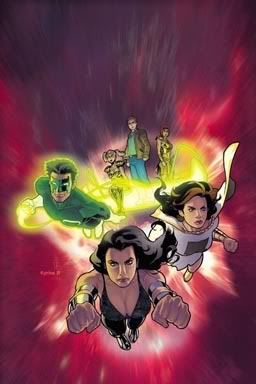 Wow, what a great week for comics. Marvel had two really near criminally kick-ass issues come out from their Icon line; Captain America and Daredevil continue to prove why Ed Brubaker is my favorite writer in the comics industry; Superman and Earth-Man took to fisticuffs in the super cool Action Comics; Grant Morrison's Batman finally started making a little bit of sense; and the greatest comic book today shipped, with the latest and greatest issue of the Goddamn Batman hitting comic shops nationwide. Reading through my stack was more fun today than it has been in months.
Until I read that stupid goddamn dumb Countdown issue.
If you woke up this morning and said to yourself, "Man, you know what I could go for? OMACs swarming around unsuspecting heroes who are really afraid of the swarm in spite of the fact that OMACs have never and will not ever kill a single hero," well, then, buddy, this issue is for you! For everyone else, you know what I'm talking about.
This issue opens with Pied Piper encountering an angry Desaad, who demands Piper play a song on his flute to open up the Anti-Life Equation, so that Desaad can use it to rule Apokolips. Apparently, Desaad's been planning everything with Piper and Trickster up to this point, somehow guiding them along on their journey. Here I thought Darkseid was behind all the metaphysical moving around of people, but I guess Desaad wanted to take some claim of the nonsensical action, too. Good for him!
They get separated for a time, but reunite at the issue's close, when Piper plays a song that makes Desaad's head pop. Grody!
Elsewhere on Brother Eye Apokolips, Darkseid continues his chess match with Monitor Solomon, moving a Jimmy Olsen piece.
Somewhere else on Brother Eye Apokolips, Red Robin and the Challengers (now with Mary Marvel, Holly, and Harley) all stumble upon Brother Eye's…well, Eye, and they see that Karate Kid is being operated on to see why he can't be turned into an OMAC. It's because he's carrying morticoccus, the super deadly virus that Ray Palmer was trying to shut down in order to prevent the Great Disaster. Ray suits up and frees Karate Kid from Brother Eye as the Challengers and Red Robin fight UNAMAC. They are then surrounded by a…swarm. of. OMACs.
This frightens them.
Don't worry, though. After blowing up Desaad's head, Piper plays his swan song, blowing up Brother Eye and turning all OMACs back to normal people. In the big giant explosion of Brother Eye Apokolips, you can see that the eye is flying, fully intact, off into the far reaches of space. So don't worry, I'm sure he'll come back and be fully destroyed again sometime around the end of Final Crisis.
Donna Troy then yells that they've got company, and that's all for this week.
I would write a big lengthy rant about how much I hate OMACs, Jack Kirby, and everything about this series, but I'm kind of tired, and the liquor store closes in an hour.