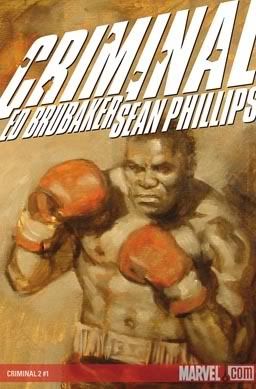 Ed Brubaker, writer of some of the best currently running comic books, posted this on his MySpace blog yesterday, regarding the future of "Criminal," the Harvey Award Winner for Best Writer and the Scream Award Winner for Best Artist (the amazing Sean Phillips), as well as the winner of the Eisner Award for Best Writer and Best New Series:
…[W]e're relaunching Criminal in Feb. with a new 1 and changing the format a bit. We're expanding both the lead story and the back pages section, so we'll now be a 40 page book.

I considered not renumbering because of it, but I figured, no one reading the book now would stop because of the renumbering, but we'd probably attract a lot of new readers and retailers and get a chance to do a big PR push.
Sounds like a good idea to me, I guess. They've gone through ten issues so far, so why not start up a new volume to get the interest of people who haven't gotten onboard yet? And, seriously, for those of you who haven't, what the hell is wrong with you? If you know me, I'll lend you the first ten issues to get you up to speed.
What I like most about this series is the scope, I suppose. Brubaker's created a whole bunch of characters, an entire world, really, that he can play around with. After the first five issues, which focused on Leo as the main character, the narrative switched to third person for the next five issues, focusing on ex-Marine Tracy Lawless, who was briefly mentioned in the first set of issues. Next up, it looks like the focus will be on the former boxer/owner of the Undertow, the local bar that all of these criminals frequent.
If you're not reading Criminal, get caught up, and start reading with the rest of us in February. You won't be disappointed.