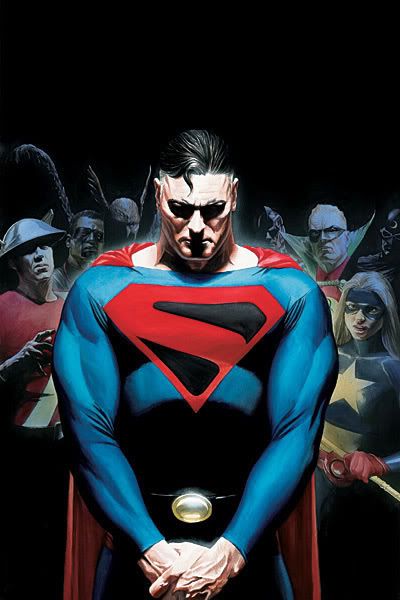 Last I knew, Earth-2 Superman was dead – a victim of Infinite Crisis, and more specifically, Superboy-Prime's fists.
But if the past year or so of DC Comics has taught us anything, it's that what was old is new again, and what happened as a result of Infinite Crisis apparently doesn't really matter because writers can just change it if they want to (see Doom DeLuise's Countdown recaps for plenty of evidence).
But one of the few places where I'm seeing this obsession with the past done well is in the hands of Geoff Johns over in the Sinestro Corps War, and so I think I speak for the Legion when I say that I hope Johns handles this like his respectful, if not recycled, work on Green Lantern, as opposed to Dwayne McDuffie's "Super Friends" obsession over on Justice League of America or Paul Dini's aforementioned weekly turd, Countdown.
As always, join us again on Saturday, as the shrinking Legion takes on Justice Society of America #10!
Written by Geoff Johns and Alex Ross; Art by Dale Eaglesham and Ruy Jose; Cover by Alex Ross; Variant cover by Eaglesham and Jose

Alex Ross joins Geoff Johns as co-writer for Part 1 of "Thy Kingdom Come," the epic story years in the making, springing from KINGDOM COME! Not a hoax! Not a dream! Not an imaginary story! Welcome the newest member to the Justice Society of America: the Kingdom Come Superman!

Coming from an Earth plagued by heroes-gone-extreme, how will this Superman react to an incarnation of the Justice Society he never knew? This Superman's world needed better heroes. So does ours.