By Nick Abadzis
Published by First-Second, 2007. $17.95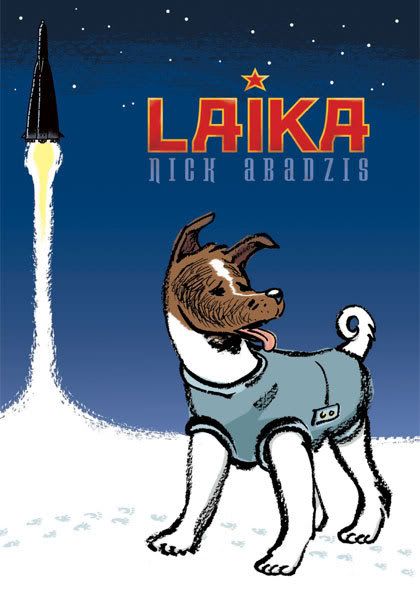 The Plot: This is the story of the dog launched into space by the Soviets, far more in the vein of Pride of Baghdad than the usual chipper "animal" stories. The focus of the book is summarized in the actual quote of one of the engineers involved with the space program: "We did not learn enough from the mission to justify the death of the dog."
The historical fiction account starts far before the launch of Laika, with the emotionally driven stories of the dog and of the man behind the Soviet rocket program. With thorough research, Abadzis delivers a dense denouncement of the USSR and its practice of subjugating humanity to ambition.
The Good: As mentioned above, Abadzis' biggest strength here is the research. Laika is laden with details that sell not only the setting of the Soviet missile program but also of the personalities of the people involved (Abadzis takes liberties, of course). But, while some historical fiction wears its research on its sleeve (an academic sort of "look how smart I am"), the personal relationships are the core of this book. Particularly the warmth between a woman working in the lab with the dogs and the animals she watches. She, and others, struggle to keep emotional distance with the animals, especially Laika.
The Bad: For a book that Abadzis clearly put so much time into, it's strange that he left so much of the art with an unfinished feel. Though his characters are well crafted and distinct and his composition is strong, his linework is overly simple with almost no use of shading. The simplistic art is almost a necessity, though, because this book is pretty long at 200 pages and has a Chris Ware-esque number of panels per page. As in, as many as 25 panels on a single page. Wow. That structure gives the book even more of a dense feel, which only exacerbates the book's "talky" bent. This isn't an action epic, after all. It's by in large filled with people sitting around and talking.
The Grade: B This book strikes me more than anything as nearly tapped potential. It could have been one of the great books of the year, if not for the quality of the art. And it's clear the art could have been better, as Abadzis a few times breaks out of his stoic stylings and creates not only eye-catching but truly inspiring pages. It's when he digs into the feelings of Laika itself and allows the dog's character and thoughts to grow and burst into dreamy imaginative panels that the book is at its absolute best. It's just a shame he breaks out far too little.