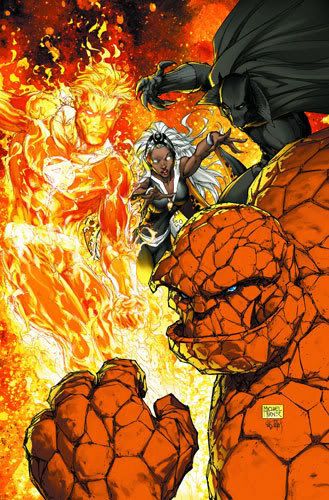 It's Book of Doom time, kids, and this week, there's a whole lot of stuff that we've covered in recent Books of Doom – Godland (supposedly), Daredevil, Wolverine and Superman: Confidential, so I'm going to branch out from my usual selections and declare Fantastic Four #544 as this week's pick.
I never read Fantastic Four, but I figure since this puppy's gonna have a Michael Turner cover, I best pick it up, and so should you! And maybe if we're lucky, we'll find out who those other two members are! Take it away, Marvel Marketing!
Written by DWAYNE MCDUFFIE
Penciled by PAUL PELLETIER
Cover by MICHAEL TURNER
In the aftermath of Civil War comes Reconstruction, the beginning of a stunning new era! Rocked to its foundations by the events of the past several months, Reed and Sue plan a hiatus from the team to work out there marital problems, leaving Ben and Johnny to hold down the fort. But they won't be doing it alone, as two new members join the team – and you won't believe who they are!