Apologies on this one. I've been swamped for awhile and haven't had time to post a preview of The Killer, a French series on an assassin that's now been translated and published stateside by Archaia Studios Press, who're making a name for themselves with great content like Mouse Guard.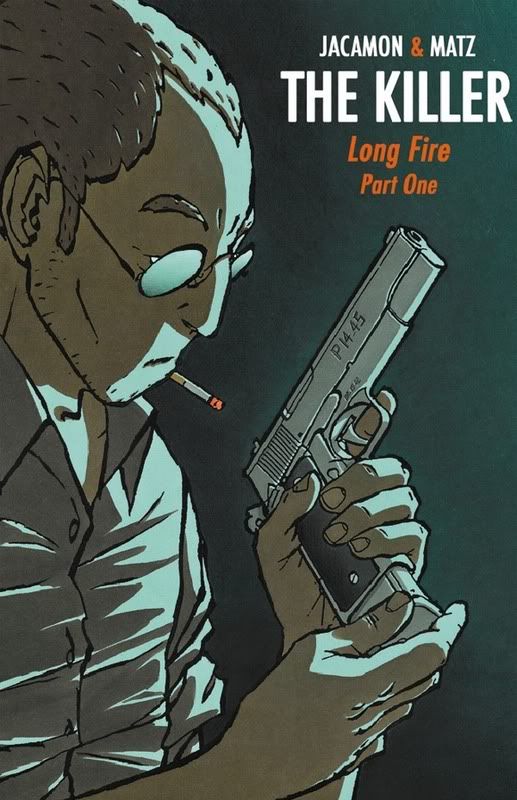 The series, which originally ran from 1998 to 2003, has now come out with its first translated issue, which changes this to a review. My bad. Tardiness aside, I still have some thoughts. Mainly, this is an extremely cool series and I'm saddened it's taken me this long to discover it. I suppose the Atlantic Ocean had something to do with that.
The series begins with the titular character hanging out in a hotel, waiting for his next hit to appear. Time goes by, the guy doesn't show, giving the killer an opportunity to reflect on life, how he came to where he is. It's a bit forced at times, and I wonder whether the narration (which there is LOTS of) became a bit stodgy during translation:
"A few more years, a few more hits. A few more guys to whack. All it takes is methodicalness, prudence and discretion. And cold blood. Chance does not exist. Leave no clues, trust no one."
Well, I suppose it's convenient the guy decides to spell out his whole modus operandi for us readers…
But that's about the only complaint. The art feels like a frozen version of the animation from Scanner Darkly. The coloring, especially, is good. The few moments of action are surprisingly tense, and the artist, Luc Jacamon, lays them out perfectly to build suspense, even with a foregone conclusion.
Even better, though, is what doesn't happen. This first issue simply familiarizes us with the antihero on the surface. But below, there's a building dread as his hit continues to not show, and the feeling that All is Not Well and Stuff is About to Get Messed Up takes life.
What's going to happen is pretty up in the air. But in books like these, it's never good. And for us readers, that's a mighty good thing.