Those gracious gents at BOOM! Studios sent over a couple of previews. First, that for the upcoming first issue of Warhammer 4000: Damnation Crusade, which comes out tomorrow.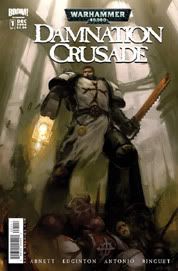 What you've got to love about BOOM! is how unabashedly they revel in their niche. They know what they want to do — big, tough stories that don't drip testosterone but gush it — and each series works to that end. They are the Spike TV of comics.
Just from the name alone, you should be able to peg Warhammer 4000 as perfectly fitting that setup. And that it does. There are vague Christian images and phrases (the cross on uniforms and a mission referred to as a "Crusade"), but if there's a great Catholic allegory going on here, it's lost below a splattering of blood and guts. Oh, and big guns. There are those too.
The storyline is typically brief. It's the future. People are fighting. They wear big space-suits and wield huge guns. Amazingly, writer Dan Abnett takes a couple pages at the end to fill in a few unknowns. Like, what's that really big thing with all the guns? The real point of the book seems to be ripping off a very wide range of "guy stuff" in a fun way. He-Man, The Terminator, Gladiator and Soldier.
Perhaps the best praise I can give the book is that it seems way too good to be based on a video game. Take that as you will.
BOOM also just announced a new ongoing series, Left On Mission. It's a spy thriller sort of thing, and who would've thunk, but it's being compared to that venerable "guy" franchise, James Bond. The first issue hits in March. Here's what BOOM! says: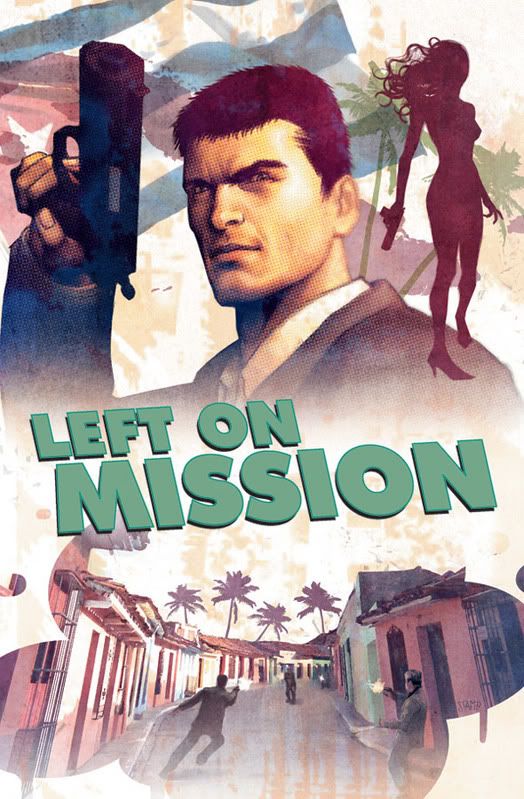 Created by Chip Mosher, LEFT ON MISSION features stunning pencil and inkwork from rising star Francesco (Sea of Red, The Black Coat) Francavilla with two first issue covers from Steph Stamb.
A spy thriller in the vein of The Bourne Identity, LEFT ON MISSION spotlights former agent Eric Westfall who has been called out of his perfect suburban retirement, complete with wife and kid, to recover an agent gone rogue. He has to stop his target from auctioning a stolen hard-drive, chock full of classified info, on the black market for $50 million. His mission: turn the target back into a loyal agent for the government, or kill him. But things get complicated when it's revealed that Westfall has been called back to duty specifically because he has history with his target – romantic history. Will he be able to take down Emma, his ex-lover? LEFT ON MISSION is a monthly series for fans of gritty, dark espionage thrillers like Casino Royale!
"All three of these creators are talents to watch," said BOOM! Studios publisher Ross Richie. "Most people are familiar with our roster of creators, whether it be Keith Giffen, J.M. DeMatteis, EUREKA creator Andrew Cosby, or EUREKA series writer Johanna Stokes, among many others. While we have an array of seasoned veterans well known for the stature of their creations, I'm confident that newcomer Chip Mosher will join their ranks. Francesco pounds out bold, confident pages of lush brushwork with great regularity. He's a powerful storyteller who's really hitting his stride. And Stamb, on the covers, is a revelation."
This Christmas has seen a makeover of the venerable James Bond franchise into a more realistic, accessible, darker series of films – to great success. The Bourne franchise set the stage, with the third installment of the series on the way soon. LEFT ON MISSION operates in this new film tradition, while at the same time bringing a new voice onto the scene.
"Our story's really the story of a guy who's found safety and peace, but now has to go back into his previous life and face potential tragedy and danger," said series writer Mosher. "This isn't just about gunplay. It's a dark emotional journey honing in on a man who has to grapple with ghosts of his past, and fears they'll consume him."