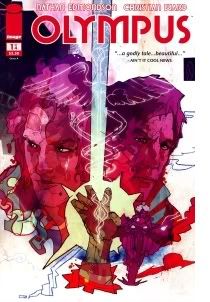 In a effort to get away from the usual frustrations of mainstream Marvel and DC, I turned to Image once again.  This week saw the release of the Olympus trade collecting the four issues mini series, and much like Chew the book did not disappoint.  Olympus centers around brothers Castor and Pollux.  They act as sort of agents on earth for the gods if anything escapes from Hades.  The story starts out with the brothers tracking down an escapee and sending him back to Hades but they forget to close the portal in time and much a bigger problem gets out.
Knowing that this was only a four issue mini series I expected the story would feel rushed as it had to pack quite a bit into a limited number of pages.  The pacing did not prove to be an issue as the story flowed at a nice pace, especially in the last half.  It's a quick read but it doesn't feel like a rush job.  It helps that the book plays off of Greek mythology, so in essence it has Greek continuity to act as back story.  Christian Ward's art is rather unique.  The line work looks like the rough pencils many artists use to lay out a story before the proper art is done.  This could have easily made the art a mess that was hard to read.  It is Ward's color work that saves the art and really shines through here.  So much of the storytelling telling is done with just the color alone.  I can't think of anything quite like it.  I really like the palette as well with the use of so many bright colors throughout.
There is really nothing truly bad about this book.  Some might be put off by the art at first but it is something worth seeing just for the dynamic color alone.   If you need a break from the overpriced stupidity of things like Chicago's Soldier Field getting blown up, Olympus is the perfect alternative.  Best of all you do not have to take my word for it as the entire first issue has been posted at Newsarama for free.