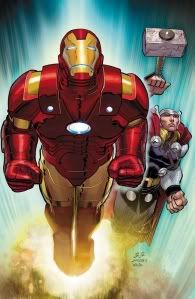 The past week has been rather uninspiring for me.  Last week's releases made for one of those weeks where nothing was truly bad but nothing felt noteworthy.  Most of the good were things like the latest issue of Walking Dead, which almost seems pointless to review because anyone who likes it is already reading and any new readers need to go back and pick up the first collected volume and read it from the start.  Need less to say the past week did not leave much to blog about.  With the start of this week there has at least been some news of interest trickling in.
Thor

I could have sworn it was already announced over the summer that Matt Fraction would be taking over Thor at some point.  Apparently that was just a strong rumor as the LA Times blog Hero Complex has now officially confirmed that Matt Fraction with artist John Romita Jr will be taking over Thor starting in May with a Free Comic Book Day release.  This is very good news as Fraction has already proven with his various Thor one-shots that he has both a entertaining and interesting take on the character.  Romita returning to Thor after many years is also welcome news as well.
Mike Richardson Interview

ICv2 has a very good interview with Dark Horse CEO Mike Richardson looking at the year gone bye for Dark Horse as well as things to come.   Dark Horse has a rather unique position in the industry.  They are sort of the middle ground between main stream comics, small press, manga, and licensed properties.  They do a little bit of everything.  Richardson's perspective on the industry is far more interesting then most because of that.  He touches on these various things through out the interview.
Too Much Information
The New York Times recently had a interesting article about a study that showed that Americans process up to 34 gigs of information on a daily basis.  At least now I know there is a good reason why I feel over loaded with information.