It's entirely likely I'll be flying solo for this week's roundtable. For your legion of Doomkopf, this is a pretty terrible week of comics. The only book I normally pick up that's coming out this week is The Goon, and quite frankly I'm not going to subject the rest of the gang to that.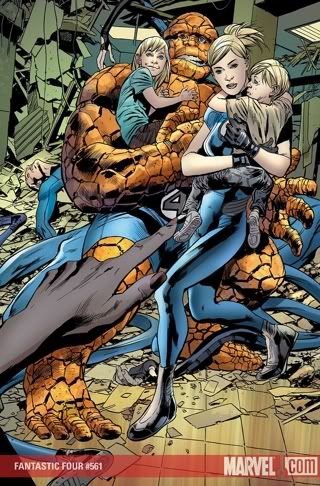 Instead, this week's choice is Fantastic Four #561. Rumor has it, it'll feature the death of the Invisible Woman. Considering that's the title of the arc and the entirety of Marvel's solicited preview, I don't feel that's too much of a spoiler. I actually have no idea what's going on with the Invisible Woman; as far as I knew, her whereabouts were a mystery since Secret Invasion revealed she was a Skrull.
As you may have guessed, I don't read Fantastic Four, but in the spirit of the Book of Doom (that being exposing oneself to something new) I'm going to give it a shot … perhaps alone, based on early reaction from my colleagues. Keep me company — as always, we welcome participation from our readers, so email your reviews to doomkopf at doomkopf dot com to be included in the Saturday roundtable. At least it's only $2.99.
Fantastic Four #561
COVER BY: BRYAN HITCH
WRITER: MARK MILLAR
PENCILS: BRYAN HITCH
INKS: PAUL NEARY

THE STORY:
"The Death of the Invisible Woman" concludes, with…well, the death of the Invisible Woman!
Rated T+ …$2.99