Holy hell, I totally forgot about this week's Book of Doom until just now. Talk about a day late and a dollar short. Speaking of short, I thought this week's choice came up way short. In short, I thought it was terrible. I don't mean to come off sounding short, but, seriously, it's a short-sighted venture ala the Sinestro Corps War. Gather all of the villains who can stop the Justice League, have them sidle up on each League member, get the upper hand, do something menacing, and that's that. Sound familiar? It's the formula for the past few years, apparently, and I, for one, am not a fan. Other than that, I have no real opinion, since it's so early in this new run (which can't be worse than Brad Meltzer's pitiful stint), so I guess that I'll just defer to the Legion members who actually care enough to think about this tripe.
Jim Doom has this to say:
I stuck with Brad Meltzer's Justice League of America for thirteen mind-numbingly boring issues because of his track record with the better-than-average (by a plus) "Identity Crisis" and the awareness that, in spite of his shortcomings, he was attempting "art." This Dwayne McDuffie run – after two issues – is another beast entirely.
In this one issue, the comic players are ambushed by someone who just happens to be standing in the room – not once, not twice, not three times – but SEVEN TIMES. Seriously! I'm honestly not exaggerating! And several of these happen in A HOSPITAL ROOM! Not that you'd know it was a hospital room from Joe Madureira meets Todd McFarlane wannabe Joe Benitez, who managed to evade the ridiculousness of the situation by not drawing backgrounds, thus opting not to detail whatever hospital bed or heart monitor Fatality and Poison Ivy were apparently hiding behind.
So get this:
1. Batman – you know, the hyper-aware super detective – is throwing a little bat-dart to free Wonder Woman, EXCEPT HE DIDN'T REALIZE THAT THE JOKER, LEX LUTHOR, CHEETAH, GORILLA GRODD AND DR. LIGHT WERE STANDING RIGHT THERE IN THE BAT-DART'S FLIGHT PATH!
2. John Stewart, Red Tornado and Hawkgirl fly into a hospital room through a giant skylight, EXCEPT THEY DIDN'T REALIZE THAT KILLER FROST AND SHADOW THIEF WERE RIGHT THERE!
3. Hawkgirl goes to "cover" John Stewart, EXCEPT SHE DIDN'T REALIZE THAT FATALITY WAS STANDING RIGHT THERE!
4. John Stewart goes to attack Shadow Thief, EXCEPT HE DIDN'T REALIZE THAT POISON IVY WAS STANDING RIGHT THERE!
5. Superman, Vixen and Black Canary go to the warehouse, EXCEPT THEY DIDN'T REALIZE THAT DR. LIGHT, CHEETAH AND GORILLA GRODD WERE STANDING RIGHT THERE!
6. Superman, Vixen and Black Canary think they've got the situation under control, EXCEPT THEY DIDN'T REALIZE THAT PARASITE WAS STANDING RIGHT THERE!
7. Cheetah thinks she's about to kill Black Canary, EXCEPT SHE DIDN'T REALIZE THAT BLACK LIGHTNING WAS STANDING RIGHT THERE!
8. The Warehouse Justice Leaguers think they've got the situation under control, EXCEPT THEY DON'T REALIZE THAT LEX LUTHOR IS STANDING RIGHT THERE!
CLIFFHANGER!
Okay, I guess I was wrong – that's EIGHT TIMES! Those sure are dramatic twists – IF YOU'RE STUPID!
It's like villains will think "Nah, let's not take out all the heroes in one fell swoop. I think we'll have a few people hang back so that the front line can get fairly decimated, and then when the good guys think they've won, we'll have someone else jump out and surprise them! And then if the heroes get the upper hand, which they most likely will, since they're now all focused on one person instead of a group of three or four, we'll have someone else jump out and surprise them again! Nevermind that, by waiting, we deliberately increase the superheroes' odds, due to the fact that the heroes have to take on smaller numbers at a time. No, that's okay. The dramatic impact will be worth the cost."
This also overlooks the fact that, for the past two issues, the plot has entirely consisted of this: Justice League sub-team A goes to the hospital where Firestorm is; Injustice League members ambush them, overwhelm them, and abduct them. Justice League sub-team B goes to the warehouse where Firestorm was attacked; Injustice League members ambush them, overwhelm them, and abduct them.
I wish I was kidding, but it seriously was the exact same thing as what happened in the Justice League wedding special, except with different members! THE EXACT SAME THING!
It's like when DC hires new writers for the Justice League of America, the editor says "Okay, so whatcha got?" And the writer says either "Well, how about they're looking at Polaroids of superheroes…" or "Well, how about they are caught off-guard at a location by someone THEY DON'T REALIZE IS STANDING RIGHT THERE…" and the editor says "Stop right there, son. I want you to do that – for at least seven issues."
God-diggity-damn this was bad. First they swipe the headquarters from the Saturday morning cartoon, and now they've swiped the intellectual level of the plotlines. I'm done with this crap. I hate it so much I made a friggin' visual aide.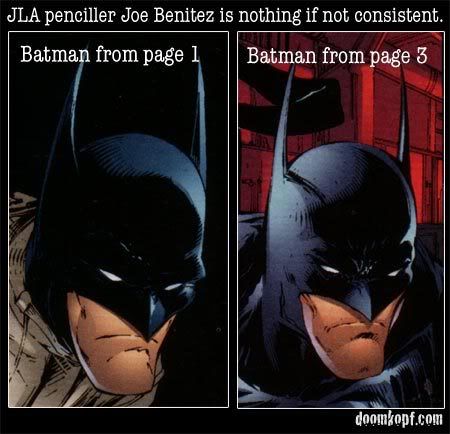 Jean-Claude Van Doom sent his review to the wrong guy, but here it is, anyway:
I wasn't planning on buying this issue before we decided it was Book of Doom. I broke down and got the JLA Wedding Special, and while that was fun, it seemed like just another repeat of Justice or any of an infinite number of DC stories in which the bad guys gang up on the good guys.
I actually hoped that this issue would take us in a new direction and do more than tell a "Justice set in the JLA Unlimited world" kind of story. Well, that's exactly what this is. The bad guys work together for… some reason. They gain the upper hand. A big rumble's in store. Whoop-de-doo. I would recommend this book for any kids looking to get into comics, because it is fun and doesn't suffer from X-Treme adult elements. The writing, if nothing else, is clever.
After the failure of Brad Meltzer's run on the title, I would've said it was time for a 180. That's pretty much what we have, with an absence of the fractured-narrative-super-dramatic-yawners from Meltzer, but this has all the weight of pillow stuffing.
At least the art is original… Oh, wait, no it isn't. Somehow, the artist manages to derive from both Todd Macfarlane AND Michael Turner in a single issue. I will not be back for thirds.
Fin Fang Doom can have the last word (hopefully) about this atrocious issue:
Justice League of America #13 was fun. Was it great? No. Did it have some pretty bad dialogue at times? Absolutely. Was the art hideous? Oh hell yes. But it was still fun. And fun isn't something we've seen in JLA for a very long time.
The first arc I read of JLA was "Crisis of Conscience," which pitted members of the team against each other and led to the dissolution of the team. Good story, but a little angst-y. Next came "A World Without a Justice League," which did not in fact feature a world without a Justice League, as the League battled the Key for five of the worst issues of any comic I've ever read. After a few months off, Brad Meltzer took over the title and gave us seven issues of forming the team, one issue of filler, three issues of a mind-numbing JSA crossover, and two more filler issues. So relative to all that, I'd say "Injustice" isn't half bad.
Apparently I'm the resident Dwayne McDuffie fanboy around here, but there's a reason for that. Justice League Unlimited was fun. Justice League: Heroes was fun. Beyond! was fun. Post-Civil War Fantastic Four, despite all the crap McDuffie had to deal with, was fun. And so far, his Justice League has been fun. And I'll take a fun comic over one that tries to be a masterpiece and fails miserably any day of the week.