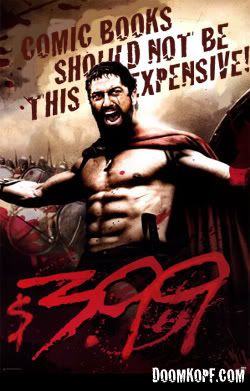 It's been happening for a few months now – more and more comics are getting nudged up to that $3.99 price tag. I could go on about how comics were only a buck when I started reading, but the point of this is not just nostalgia – can the comics market really sustain $3.99 cover prices?
I have opted out of series like "Silver Surfer: Requiem" and Jeff Smith's Captain Marvel because of the cover price. I'm sorry, but I buy comics because I like reading them. Even if the pages are glossy and the cover is thicker, it's still just a comic book, and so if I don't have a good reason to pay $3.99, I don't.
It appears to be indicative of a new age of speculation – attempting to impose an intrinsic value onto comics with nicer paper, multiple covers, special incentive editions. Each new gimmick designed to sell tends to only make me leave it on the shelf, and I imagine that I'm not the only one.
To make sure that I wasn't just imagining things and getting grumpy, I went through the solicitations going back to the beginning of August 2007 to see how many comics were rising above the $2.99 cover price.

The following were listed for $3.99 unless otherwise noted:
Aug 1
Daredevil Battlin' Jack Murdock #3
Dark Tower Gunslinger Born #7
Marvel Tarot
Marvel Two in One #2 ($4.99)
Punisher #50
World War Hulk #3

Aug 8
Civil War Chronicles #2 ($4.99)
Powers #25 ($3.95)

Aug 15
Booster Gold #1 ($3.50)
JLA #12 ($3.50)
Marvel Adventures Two in One #2 ($4.99)
Spider-Man Family #4 ($4.99)
Terror Inc #1
Wolverine Origins #16

Aug 22
Superman #666
Halo Uprising #1
Wolverine #56
World War Hulk Gamma Files

Aug 29
Batman Annual #26
Countdown to Adventure #1
Ex Machina Masquerade Special #1
Teen Titans #50
Last Fantastic Four Story ($4.99)
Silver Surfer Requiem #4

Sep 6
Amazing Spider-Man #544
Captain America Chosen #1
Daredevil Battlin Jack Murdock #4
Marvel Two in One #3 ($4.99)

Sep 12
JLA Wedding Special #1
Civil War Chronicles #3 ($4.99)
Daredevil #100
I'm not sure that the rate of inflation has risen enough for an industry shift. Customers seem willing to let a markup slide for a #1 issue, though that's somewhat anti-capitalistic in its approach.
But look at that list – Wolverine #56 and Wolverine Origins #16, for example, were just two normal issues that maybe had a few more pages tucked in. Are we the consumer to believe that Marvel has to add a dollar to cover those costs?
I don't think it's entirely a coincidence that, as more and more comics are sold at inflated cover prices, I find myself spending less and less each week. Probably not the impact they were going for.