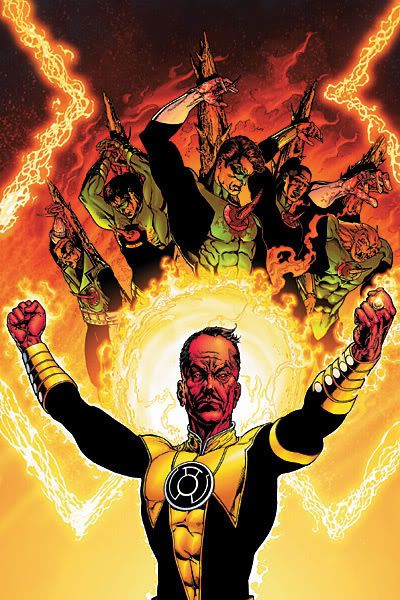 We're featuring R. Kelly's favorite super-villain this week on our Book of Doom with Green Lantern: Sinestro Corps #1 (vague reference? Think golden shower/yellow ring). For the second straight week, we're possibly without a guest reviewer. My excuse is that I spent last week in Seattle and only just got back. Lame? I know.
Now, come on back on Saturday to join in the communal fun as we either love or hate on the summer's big event that's bound to have far less impact than it actually should. Or, whether any single issue is worth $4.99. YOUCH!
Now, here's what those PR folks have to say:
Written by Geoff Johns; Art by Ethan Van Sciver and Dave Gibbons; Cover by Van Sciver
The stellar creative team of the sell-out GREEN LANTERN: REBIRTH miniseries – Geoff Johns and Ethan Van Sciver – reunites for an extra-sized Special, igniting an intergalactic war that will explode in the pages of GREEN LANTERN and GREEN LANTERN CORPS!
Hal Jordan has struggled to regain his reputation. Kyle Rayner has suffered great personal loss and reluctantly gained great power. Guy Gardner's trust in the Guardians is wavering. John Stewart's unbreakable loyalty soon will be tested. Together, these four men are the Green Lanterns of Earth; but why are so many Earthmen recruited into the Corps? What is their ultimate rolel in the future of the universe? And how will the secret of the rings' power threaten the Guardians and affect Hal Jordan's future?
Sinestro was called the "greatest" of the Green Lanterns; now the renegade has vowed to bring terror to the universe he once protected. The worst murderers, thieves and deviants in the universe have gathered into Sinestro's Corps for one purpose: to instill great fear. Armed with the truth behind Parallax, Sinestro's intergalactic insurgents strike hard and fast at the very heart of the Green Lantern Corps. The Sinestro Corps is about to change everything you know about the Green Lanterns. Fear them. Everyone else will.
Plus, a 6-page backup story by Johns and Dave Gibbons (GREEN LANTERN CORPS, WATCHMEN) "The Origin of Sinestro"!
DC Universe | 64pg. | Color | $4.99 US