Yesterday I came to work to find a package on my desk from Fantagraphics. Up front I should say that the good folks of FG are right up there with Vertigo and Boom! Studios when it comes to accessibility and sending out material for review. That said, when I see mail from FG, I'm filled with a mix of excitement and trepidation. Yes, it's new comics. But it's entirely possible what I'm about to read will be disturbing (there's also an utter certainty it will contain male genitals).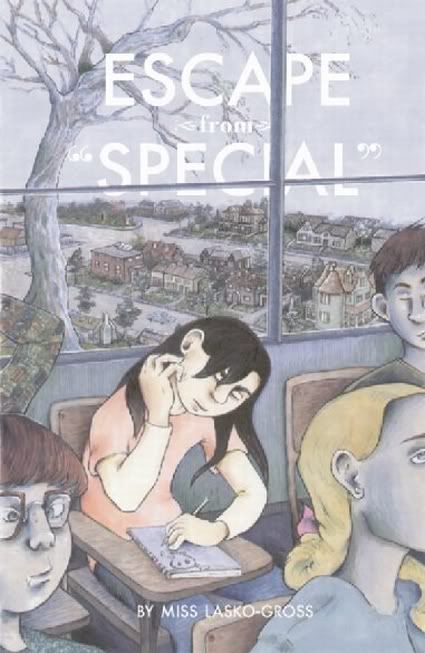 I opened the box and found the new graphic novel Escape from Special by Miss Lasko-Gross, a New York-based writer and illustrator. The book sounded interesting, a recollection of childhood that manages to be neither sappy nor overly dysfunctional while still deconstructing the way children are raised to be plugged into the machine of adulthood. And, fair enough, that's a pretty accurate description of the book. Lasko-Gross fills the 176 pages with short anecdotes from what seems to be a slight fictionalization of her youth, and manages to come across as bitter without ever being too bitter.
My problem with this book is that it is simply a straightforward memoir (even if slightly fictionalized) of a life that hardly strays into the exceptional. Lasko-Gross's main character, Melissa, deals with the meanness of other girls, her yen for art, her distaste for everything else in school, the manipulativeness of adults and so on — all the little problems that we all trudge through (except those popular A-holes).
From that most unscientific of methods (my personal observation), it seems like this is endemic among indie comics: To show how completely unlike those superhero stories you are, you have to write about the honest truth of personal existence.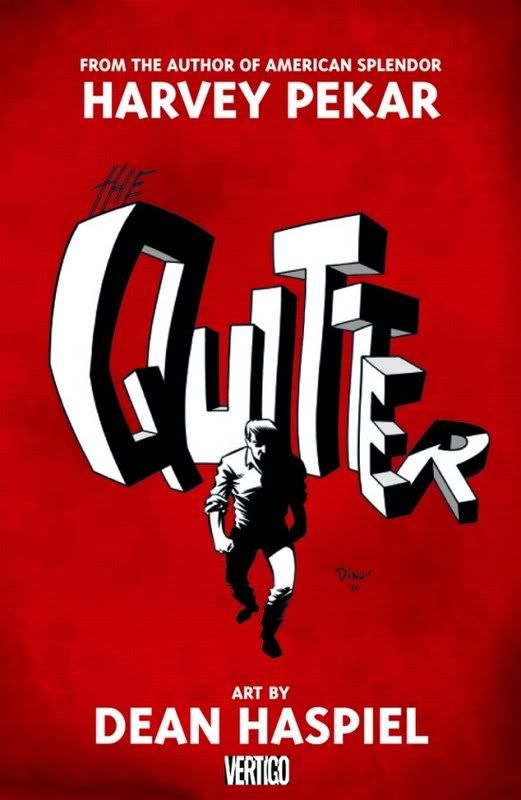 Maybe this all owes to Harvey Pekar, who has been toiling away with his tales of plain life in American Splendor for decades, and in recent years finally having some wide success with his work. Pekar is one of the flag-carriers of the indie comics movement, so it makes sense that the works would follow his lead and that newcomers would take after his modus operandi.
But, as much as I enjoy Pekar's work, I think it's a mistake to ape it. Pekar has a very unique outlook on life that twists special meaning (or lack of meaning) from what lesser eyes would glimpse and forget. Most of these new slice-of-life tellers pale when compared to him. Too often, they view the comics medium as an outlet for personal journals. It doesn't work because the personal lives of the vast majority of people is boring beyond words or drawings, and few know how to effectively select and write that which has deeper meaning.
Escape from Special is not a bad book, but it just isn't interesting. The art is quite nice, a multi-tool black and white that retains the touches of a child's hand but renders convincing emotion in the characters. And it is very enlightening to finally see what it was like to be a girl (near my generation) going through the school years. But the 70 or so little tales have no cohesion and seem to willfully resist making any sort of statement. The stories don't so much end as just quit. Now, I'm not asking for Superman to show up, but I need a bare minimum of a storyline if I'm going to invest that much reading time.
Not to be too dour, there are some good works in this genre. An example is Blindspot by Kevin C. Pyle, a New Jersey-based illustrator (I'd post a cover image, but I couldn't find one).
This book is the same setup, a young artist confronts his dislike of school and dissatisfaction with the world of adults waiting for him. Pyle wraps the story around the woods near his house, crafting a narrative where lesser eyes would have seen none. It doesn't hurt that he peppers the tales with true-to-form 1940s-style illustrations of imagined warfare (his favorite game was to play soldier). As the book moves on, its events grow on each other, building toward the conclusion, instead of being a roughly organized collection of dissonant thoughts.
Pyle's art is also eerily similar to that of Lasko-Gross, childishness mixed with maturity. In so many ways, they are the same book. But in so many ways, they are different.