A friend just loaned me the first book of this series. Volumes two and three are out as well.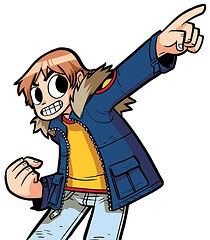 I'd made it about three fourths of the way through my first encounter with manga (can you really call it that?) and I was considering dropping the thing cold and chalking it up as a waste of time. The protagonist was dumb and mostly boring, the dialogue choppy, the art sloppy, the storyline nonexistent, etc.
The majority of the book only establishes that Scott is a 23-year-old in a crappy band, he's poor, he's dating a high schooler (WTF?) and he lives in Canada. Dialogue includes the following exchange: "No!" "Yeah, so whatever, man." Forgive me for not being bowled over.
But the last half introduces a new love interest, a weird girl named Ramona who apparently travels through dreams, and the book takes off into Bizarro-land, culminating with Scott fighting the first of Ramona's seven evil ex-boyfriends. (Hmmm, I wonder if author Bryan Lee O'Malley read some Joseph Campbell…) The fight is a riff on video game culture, though, done with just the right amount of silliness (Read: Lots).
So the book went in the matter of a couple pages from being a lame attempt at "Box Office Poison"-style early adult drama to a fun, ridiculous spoof on the idiocy of early adulthood. That, I can dig.
I'm still not totally sold. I mean, the art had me wondering about illustrating some of my own writings. And I haven't picked up a sketchbook in years. But the story has a cool goofy-ness that I'm willing to follow for at least another couple books.