I recently had the chance to email back and forth a little with Eric Powell, creator of the Eisner award winning "The Goon," which is published by Dark Horse. I'll be writing my usual comics column on this for the Arkasnas Democrat-Gazette. But I'll post some excerpts of our online discussion below.
ME — The first thing I wanted to ask about is this feel I get from The Goon, that it's just completely unfettered, for lack of a better word. There aren't really "rules" at play, you don't seem to be making any huge metaphoric statement, the characters are very over-the-top, and you don't even label the city where all this happens.
ERIC POWELL — The entire reason for me creating this book was to play. I wanted to do anything I wanted. To experiment. I wanted no restrictions or limitations. I wanted to draw only the things I wanted to draw. Best way to do that is to create a book with plenty of nonsense.
ME — Along the same line, the characters are just a smorgasbord of inanity and insanity. Do you base any of them on real people?
EP — No, they aren't based on real people. But they are people I'd like to have a drink with.
ME– I read somewhere that you've been writing and drawing stories since you were fairly young. What were some of the biggest challenges in getting a book onto shelves? And when did you realize you'd "made it?"
EP — The biggest challenge is simply not giving up when you hit the hundreds of road blocks along the way. And I'm still not secure. I'm still frightened that the rug is going to be pulled out from under me.
ME — Getting to work with Marvel on Devil Dinosaur and the covers of the other Monster books has to help you feel established. How did that partnership come about and how do you think it turned out? Do you plan on continuing to work with Marvel, or DC?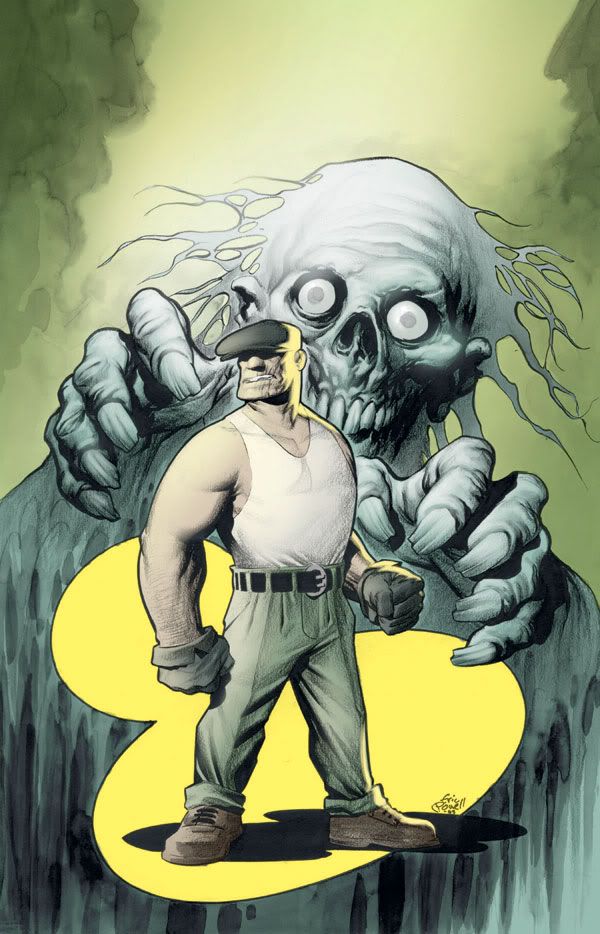 EP — Marvel asked if I wanted to do it as a miniseries. Unfortunately I could fit it into my schedule. But then the idea for the monster book one shots game up and that was easier to fit in with the help of co-writer Tom Sniegoski and inker Mark Farmer.
It really depends on my schedule and the project. I'm really having fun with the Goon right now.
ME — A local comic store owner mentioned that he stocked you before you were at Dark Horse. How important was that kind of support?
EP — Immensely important! The retailers that supported the book in the beginning have a hand in it's success. If it hadn't started to gain some underground momentum, I doubt any of this would have happened.
ME — It seems like Dark Horse is a great fit for you, and they really seem to support you with trades – including the new Fancy Pants one. What are the advantages of DH as opposed to Marvel or DC, or to a smaller publisher like Speak Easy?
EP — You work for Marvel and DC if you just want to draw Spiderman or Batman. If that's your life goal to draw a super hero comic, you work for them. You will make good money working for those guys, too. If you're more of an outside of the box creator that wants to do their own thing, Dark Horse or a smaller publisher is where you go.
ME — A friend of mine has published a few comics, and he always has been interested in your art. He wondered about how your style changed from your early work to now (he says you are much more distinctive now).
EP — I'm restless when it comes to style. Or technique, really. Not style. I love to experiment. Every issue is going to be different. That may hurt the book, but it's the way I want to work.
ME — Any new projects, a Goon movie, etc. that you're working on?
EP — Maybe.
ME — Out of the mass of books out there now, what do you read? Favorite
writers/artists? Do you get into "events" like House of M or Infinite
Crisis?
EP — To be honest, I so rarely get to pick my head up from the table that I really don't know what comes out any more. I miss a lot.
ME — When it comes to art technique, what's the strangest thing you've incorporated?
EP — I did do a photo segment with my son as a little runaway hillbilly.
ME — Is there any hero out there in the mainstream you'd love to take a swing at (figuratively or literally, I suppose)?
EP — There are a lot of characters with the big two I'd like to play with. But who knows if I'll have the time or ever get the chance.
ME — How gratifying were the Eisner awards?
EP — Last year was very gratifying because I had convinced myself that the year before was a fluke and it was never going to happen again. It's very humbling.